The famous Harvard Professor, Dr. Howard Gardner, at scientific event from New York College on the contribution of multiple types of intelligence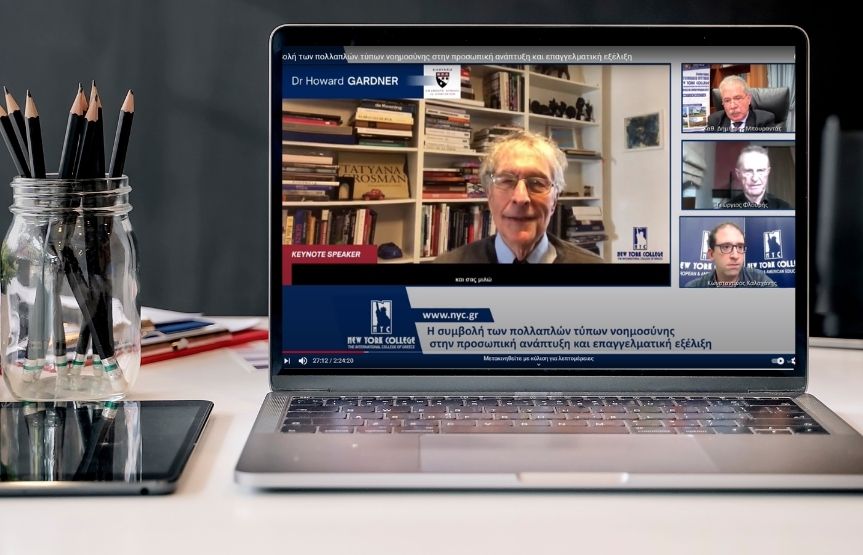 The famous Harvard Professor, Dr. Howard Gardner, participated on Friday, 05 March 2021 at 18:30, at the Online Event on "The Contribution of Multiple Types of Intelligence to Personal and Professional Development" along with Prof. Dimitris Bourantas, Rector and Director of the Executive MBA of New York College and Founder of the Postgraduate Programs in Human Resources Management and MBA of the Athens University of Economics (ASOEE), and Professor of E.K.P.A. George Flouris. It was another successful event of the New York College Educational Group, which was watched via live streaming by about 4.500 people.
Dr. Howard Gardner is the creator of the Multiple Intelligences theory (M.I.), applications of which have been successfully implemented worldwide. He is Professor of Cognition and Education in the Graduate Program of Harvard University's Pedagogical School and Director of the Program, Project Zero, at the same University.
Georgios Flouris, Professor of the Pedagogical Department of Secondary Education (formerly Ph. P. Ps.) of the Philosophy School of E.K.P.A., former President and Director of the Department of Educational Programs, Teaching Methodology and Educational Technology of the University of Crete, referred to the theory of Multiple Intelligences as contributing to multifaceted development and professional success.
Prof. Dimitris Bourantas, developed the topic of applying logical intelligence for successful choices in personal and professional life.
Watch the full video of the Event here: https://youtu.be/U92KCuEaj-M
Stay up to date on all New York College events with FREE WATCH here:  www.nyc.gr/about-nyc/events