Double wreath deposit to statues of Georgios Karaiskakis and Lord Byron in Zappeion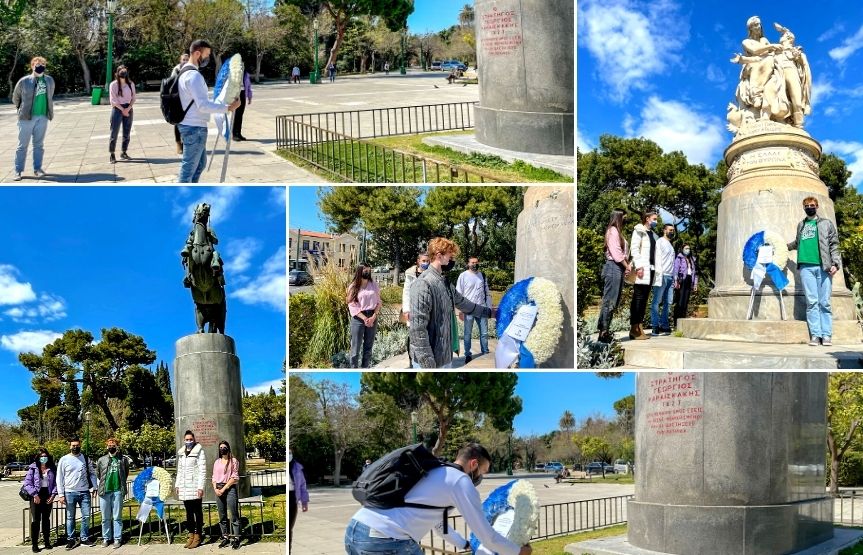 A little while ago, at 3:30 p.m., representatives of the students of New York College laid wreaths to the monumental statues of Georgios Karaiskakis (on Herodou Atticou Street, opposite the Panathenaic Stadium), and of Lord Byron (on Vas. Olgas Street, opposite the Columns of Olympian Zeus), both of which are located on the outer boundary of Zappeion, in the "neighbourhood" of New York College (Vas. Amalias 38).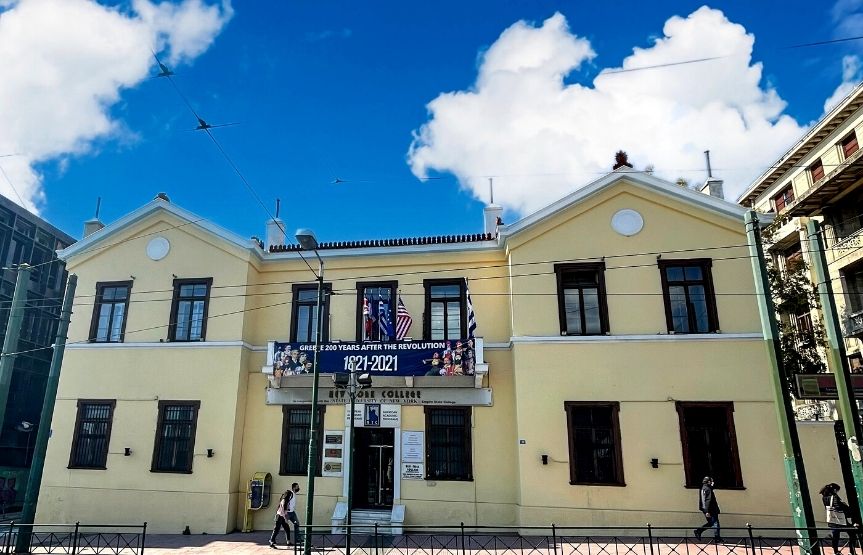 Along with the wreaths, the students of New York College deposited an honorary anniversary plaque with the first two verses from the poem "Thermopylae" of KAVAFIS (to the statue of G. Karaiskakis in Greek, and to the statue of Lord Byron in English):
Τιμὴ σὲ ἐκείνους ὅπου στὴν ζωὴν των
ὥρισαν καὶ φυλάγουν Θερμοπύλες.
Honor to those who in their lives are committed and guard a Thermopylae.
Student Michalis Gohar, who deposited the wreath and the Kavafis plaque on the statue of G. Karaiskakis, said: "Karaiskakis lifted all of Greece on his shoulders in 1826-1827, after the Siege of Messolonghi, in one of the most critical periods of Greek history.  It was therefore deeply moving that we laid a simple wreath on this important anniversary to honor this Great Greek, who many of us students meet every day on our way to our college."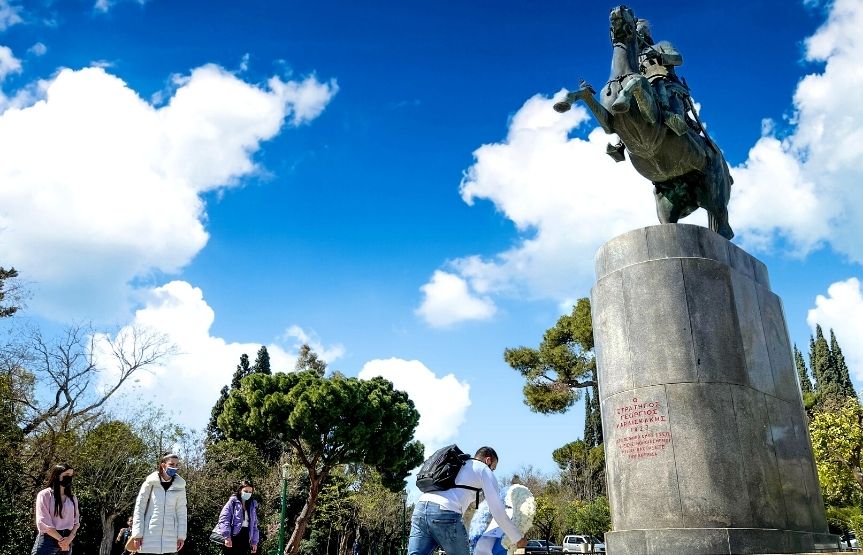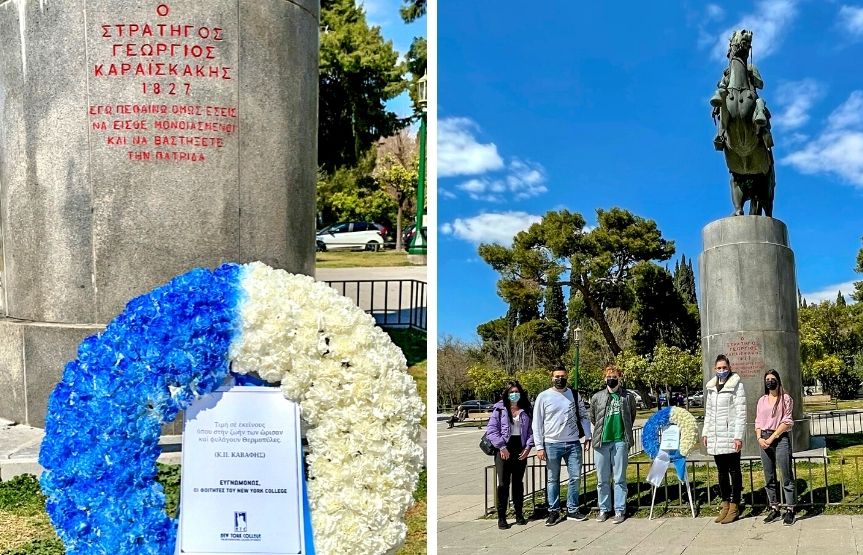 Student Giorgos Xyrou, who deposited the wreath and the corresponding Kavafis plaque on the statue of Lord Byron said: "Lord Byron is our Byron: We see him every day as we enter or leave our college. And we always look at him in awe, because we know that he embodied the global resonance of the Greek War of Independence at the time and ever since. It was a great honor, therefore, that as students we laid a wreath with our own Kavafis, as if we were saying to this great English Philhellene: We are here and we carry on your legacy."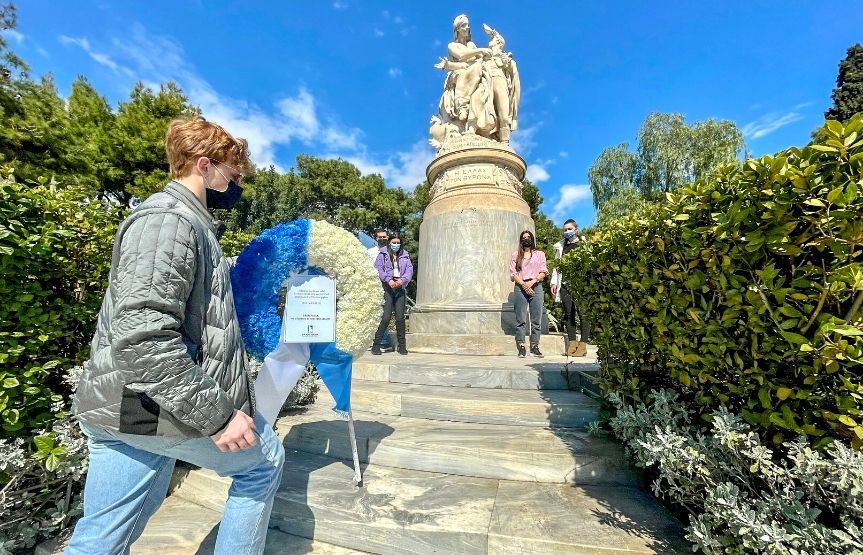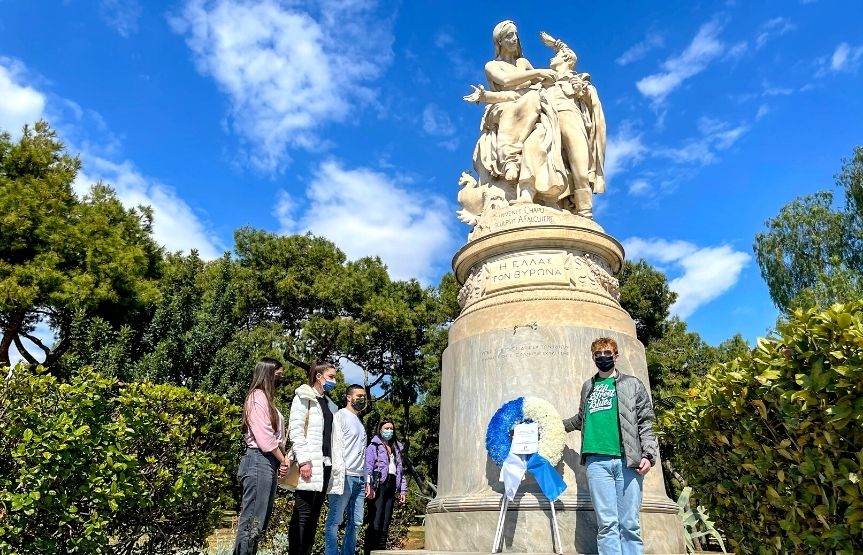 After the wreath laying, NYC founder and President Elias Foutsis, Hon PhD, stated: "Congratulations to our students for their bicentennial initiative and for the modesty with which they carried it out.  I am sure that similar initiatives, at local level, will be taken by many of their colleagues studying at public universities and colleges.  Τhe legacy of "Freedom or Death" bequeathed by the Generation of 1821 to us its descendants and to all mankind, is a heavy one.  Today, it seems the young people of Greece are becoming more and more aware of this".