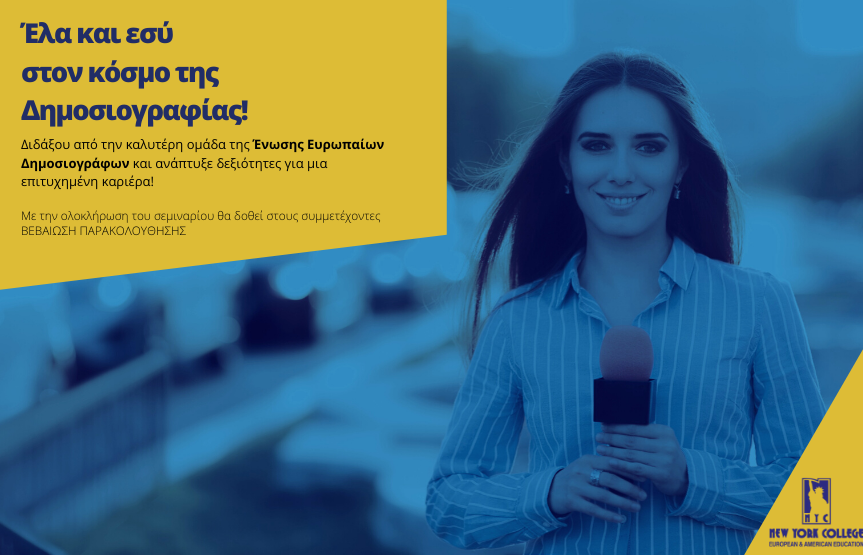 Επαγγελματική Δημοσιογραφία
---
Βασικός στόχος των σεμιναρίων είναι η επιμόρφωση των συμμετεχόντων σε θέματα δημοσιογραφίας και ΜΜΕ. Καθώς η δημοσιογραφία αλλάζει διαρκώς με την ψηφιακή επανάσταση, οι δημοσιογράφοι πρέπει να προσαρμόζονται στα νέα δεδομένα και να καταρτίζονται συνεχώς. Το πρόγραμμα καλύπτει όλα τα είδη της δημοσιογραφίας (ηλεκτρονική, έντυπη και τηλεοπτική/ραδιοφωνική) καθώς και το νομικό πλαίσιο λειτουργίας των ΜΜΕ.
ΤΡΟΠΟΙ ΔΙΕΞΑΓΩΓΗΣ ΤΩΝ ΣΕΜΙΝΑΡΙΩΝ
Η προσέγγιση των θεματικών ενοτήτων και δραστηριοτήτων θα διενεργούνται με:
Εισηγήσεις από τους διδάσκοντες μέσω προβολής διαφανειών.
Διαδραστικές συζητήσεις και ανατροφοδότηση των συμμετεχόντων.
Πρακτικές ασκήσεις ρεπορτάζ και δημοσιογραφικής γραφής.
ΣΕ  ΠΟΙΟΥΣ ΑΠΕΥΘΥΝΟΝΤΑΙ
Το σεμινάριο απευθύνεται σε δημοσιογράφους, φοιτητές δημοσιογραφίας και bloggers καθώς και σε όσους ασχολούνται με διάφορους τομείς της δημοσιογραφίας και των ΜΜΕ.
---
Course Details
Curriculum

Instructors

More info
Curriculum
Εισαγωγή στη δημοσιογραφία και τη λειτουργία των ΜΜΕ (3 ώρες) Σάγια Τσαουσίδου, Παναγιώτης Σφαέλος
Η ελευθερία του Τύπου και η ανεξαρτησία των ΜΜΕ (3 ώρες) Σάγια Τσαουσίδου, Παναγιώτης Σφαέλος
Ηλεκτρονική/ψηφιακή δημοσιογραφία της νέας εποχής (3 ώρες) Σάγια Τσαουσίδου, Παναγιώτης Σφαέλος
Παραπληροφόρηση και fake news (3 ώρες) Σάγια Τσαουσίδου, Παναγιώτης Σφαέλος
GDPR: Η προστασία προσωπικών δεδομένων στο διαδίκτυο (3 ώρες) Δημήτριος Κυριακαράκος
Ερευνητική δημοσιογραφία (3 ώρες) Σάγια Τσαουσίδου, Παναγιώτης Σφαέλος
Είδη και τεχνικές ρεπορτάζ (3 ώρες) Σάγια Τσαουσίδου, Παναγιώτης Σφαέλος
Τεχνικές συνέντευξης (3 ώρες) Σάγια Τσαουσίδου, Παναγιώτης Σφαέλος
Δημοσιογραφία και Ευρωπαϊκοί Θεσμοί – Αποστολές στο Ευρωκοινοβούλιο (3 ώρες) Σάγια Τσαουσίδου, Παναγιώτης Σφαέλος
Παραγωγή τηλεοπτικών και ραδιοφωνικών εκπομπών (3 ώρες) Σάγια Τσαουσίδου, Παναγιώτης Σφαέλος
Γενικές αρχές δικαίου του Τύπου και των ΜΜΕ (3 ώρες) Δημήτριος Κυριακαράκος
Ανασκόπηση και συμπεράσματα των σεμιναρίων – Βράβευση καλύτερου ρεπορτάζ (3 ώρες) Σάγια Τσαουσίδου, Παναγιώτης Σφαέλος
Instructors
Η Σάγια Τσαουσίδου είναι Δημοσιογράφος, Πρόεδρος της Ένωσης Ευρωπαίων Δημοσιογράφων για την Ανεξαρτησία και τη Διαφάνεια των ΜΜΕ (Ελληνικό Τμήμα) και Διεθνής Αντιπρόεδρος της Ένωσης Ευρωπαίων Δημοσιογράφων.  Είναι Μέλος της ΕΣΠΗΤ, Ένωση Συντακτών Περιοδικού Ηλεκτρονικού Τύπου και Μέλος της IFJ, Διεθνής Ομοσπονδία Δημοσιογράφων. 
Ο Δρ. Παναγιώτης Ν. Σφαέλος είναι Δημοσιογράφος, Νομικός, Διεθνολόγος και Καθηγητής Πανεπιστημίου. Είναι Γενικός Γραμματέας της Ένωσης Ευρωπαίων Δημοσιογράφων για την Ανεξαρτησία και τη Διαφάνεια των ΜΜΕ, Μέλος της Ένωσης Δημοσιογράφων Ηνωμένου Βασιλείου (NUJ) και της Διεθνούς Ομοσπονδίας Δημοσιογράφων (IFJ). Είναι κάτοχος Διδακτορικού και Μεταπτυχιακού από το Πανεπιστήμιο του Kent. Έχει Πτυχίο Νομικής από το Πανεπιστήμιο του Leicester, Πτυχίο Διεθνών Ευρωπαϊκών Σπουδών από το Πανεπιστήμιο South Bank του Λονδίνου. Επίσης, έχει Πτυχίο Δημοσιογραφίας από το London School of Journalism και Δίπλωμα Δημοσιογραφίας και ΜΜΕ από το Antenna Media Lab.  
Ο Δημήτριος Π. Κυριακαράκος είναι Δικηγόρος, LL.B. (Honors) London South Bank University, LL.M. (Merit) in 'International & Comparative Business Law' London Metropolitan University (ex Guildhall), πρώην Καθηγητής Δικαίου Τύπου στο School of Sports Journalism, New York College.
More info
Κόστος Συμμετοχής: 1.500€
900€ ΓΙΑ ΣΠΟΥΔΑΣΤΕΣ & ΑΠΟΦΟΙΤΟΥΣ ΚΟΛΛΕΓΙΟΥ/ ΙΙΕΚ NYC
1.200€ ΦΟΙΤΗΤΕΣ- ΣΠΟΥΔΑΣΤΕΣ- ΑΝΕΡΓΟΙ (με την επίδειξη της φοιτητικής/ σπουδαστικής ταυτότητας/ κάρτας
ανεργίας)
Με τη συμμετοχή 2 ατόμων παρέχεται έκπτωση 20% και άνω των 3 ατόμων, έκπτωση 30%
Ημέρες & Ώρες Διεξαγωγής: Δευτέρα, 18:00 έως 21:00
Διάρκεια: 3 μήνες
Έναρξη σεμιναρίου: 01 Οκτωβρίου 2020

Πληροφορίες/ Εγγραφές:
New York College - Αμαλίας 38, Σύνταγμα,105 58
Τηλ: + (30) 210 322 5961, e-Mail: nycath@nyc.gr | www.nyc.gr

Με την ολοκλήρωση του σεμιναρίου θα δοθεί ΒΕΒΑΙΩΣΗ ΠΑΡΑΚΟΛΟΥΘΗΣΗΣ
από την Ένωση Ευρωπαίων Δημοσιογράφων και το New York College