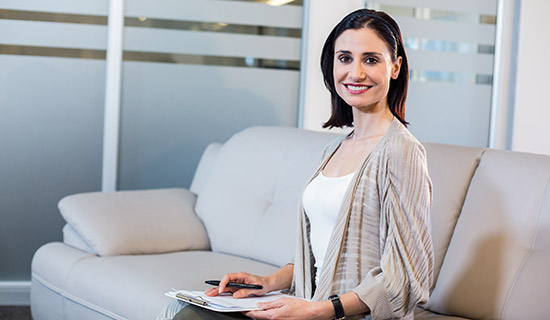 Master in Cognitive Behavioural Psychotherapies
---
The University of Bolton MSc in Cognitive Behavioural Therapy provides you with a unique opportunity to:

• Expand your knowledge through specialising on your chosen area within CBT

• Acquire skills through supervised practice by tutors and supervisors experienced in psychology and CBT

• Enjoy full support as you conduct high quality research

• Be encouraged to highlight the links between your research and clinical practice and publish your findings

• Equip yourself with the knowledge and skills needed for further PhD study or an academic career

• Benefit from a small-group, learner-centred, supportive learning environment responsive to individual needs and expectations.
---
Course Details
Curriculum

Requirements

Tutors

Careers
Curriculum
Psychological Principles of Cognitive Behavioural Therapy
Professional Practice, Attitudes and Skills
Applications of CBT 1; CBT2; CBT3
Supervised Practice 1 and Practice Portfolio Preparation
Supervised Practice 2; Supervised Practice 3
Principles and Concepts in Research Design
Dissertation
Duration

The MSc in Cognitive Behavioural Psychotherapies is a 24 -month part-time programme, taught exclusively in the English Language.
Requirements
Entry Requirements include:
A good honours degree, or equivalent, in psychology or a related area, graduates from other disciplines are welcome to apply.
You should possess a certificate in counselling skills (or be able to demonstrate equivalent skills)
A good standard of English (IELTS 6.5 or a recognized equivalent)
Two satisfactory references
Having undertaken a course of personal therapy is an advantage
An interview is required to consider applicants suitably
Tutors
Local Programme Manager

Head of the Psychology Department: Dr. Antonia Svensson Dianellou

Antonia holds a PhD and BSc in Psychology from Goldsmiths University of London (Unit for School and Family Studies) and an MSc in Health Psychology from the University of Surrey, UK. In 2002 she completed a Postgraduate Diploma in Dance Movement Therapy at the University of Hertfordshire, UK. Apart from heading the Psychology Department since 2015, and her teaching responsibilities at NYC, she is also the International Organiser of ISPS (a global organization with presence in over 20 countries and a history of 50 years.  It is composed of the leading international professionals, service providers and academics in the field of psycho-social intervention, and organizes conferences, awareness campaigns, and training at national, regional and local levels around the world.) Between 2003 and 2006 Antonia conducted research on intergenerational relationships for the National School of Public Health in Athens, funded by the 5th Framework of the European Commission.  Before that she worked as a researcher at Anglia University, Cambridge, where she led a two-year evaluation of the international project Mistral to improve the employment opportunities of people with mental health problems, physical and learning disabilities; a project funded by the European Social Fund. Antonia is a licensed Psychologist under Greek law and an experienced counselor-Dance Movement Therapist specialising in work with children, women and vulnerable populations. She oversees the running of all psychology and counseling programmes offered at NYC as well as the Student Counseling Service.

 
Local Tutors

Mr. Dimitris Katakis:

Dimitris has completed a wide array of studies in Greece and UK in Education, Law, MA in Educational Psychology, Graduate Certificate in Psychology, MSc in Child Development and an MA in Clinical-Counselling Psychology, plus numerous trainings, workshops and seminars, mainly in the UK. He has worked in various settings and with many different kinds of people, as a teacher in Athens and London and as a Diplomat (Educational Attache) in the Education Department of the Greek Embassy in London. He has also provided counselling and support to adolescents in the Greek Secondary School of London, in conjunction with a family therapist. He has organised several seminars, school workshops and parenting classes to improve and facilitate teachers' further education, children's learning and parents' communication with their children. In addition, working in such diverse environments, travelling and working in different countries have enhanced his open-mindedness and ability to relate to people with differing views. Through teaching and counselling he has learned how to become a good listener, show respect, understanding and unconditional positive regards to those in need or distress. Since 2011 Dimitris has been employed at the Suicide Prevention Centre (Klimaka) in Athens as a CBT therapist (Cognitive Bevarioural Therapist). Dimitris is one of the three instructors who share the teaching of the modules 'Applications of CBT 1, 2 and 3', teaches 'Professional Practice, Attitudes and Skills' and also acts as external supervisor for some student placements.

Dr. Marsha Koletsi:

Marsha earned her BA in Psychology from the University of Crete and was awarded her PhD from the University of Sheffield, having received a scholarship for her studies. She has been trained in Cognitive Behavioural Therapy and in 2006, she completed her 3-year post-doctoral fellowship in the Psychiatry Department of the Medical School of St. George's Hospital in London, UK. She has studied the quality of life and independence of people with severe mental illness through supported employment. She has worked as a psychologist in the National Health Service (UK) in the Mental Health section, at the Counselling Centre of the University of Sheffield, in the Eating Disorders Unit for the Medical Centre of the University of Sheffield. She has experience as an examiner for Edexcel foundation programmes. She has extensive research and clinical experience with people suffering from various disorders and she is currently working as a licensed psychologist-psychotherapist at her private Counselling Centre. Furthermore, Marsha is an accredited clinical supervisor from the British Psychological Society and since 2015 she supervises the University of Bolton MSc CBT students' clinical training (running the internal supervision group). She also recently became an accredited Parent Effectiveness Trainer. She has taught on various franchised programs of UK Universities at undergraduate and postgraduate level, she has also served as the Head of a Psychology Department in the past. She has participated in various seminars, guest lectures, written book reviews and taken part in radio and TV shows. In 2014, she co-authored a book on clinical assessment in counseling. She is an Associate Fellow of the British Psychological Society, Member of the Eating Disorders Association, Member of the Greek Psychological Society and the Hellenic Psychological society.

Dr. Vaia Lestou:

Vaia received her MA (Hons) in Psychology and a PhD in Cognitive Neuroscience from Glasgow University, Scotland. She has also completed "Cognitive Behavioural Therapy Training (EABCT accredited), from the Institute of Behavioral Research and Therapy in Athens. Vaia is a psychologist-research scientist at Evangelismos Hospital focusing on integrated psychological therapy for schizophrenia and group intervention. Concurrently she also provides therapy at the "First Psychiatric Ward, at Eginitio Hospital, University of Athens. She is an Honorary Research Fellow at Birmingham University Imaging Centre (BUIC) & School of Psychology, University of Birmingham. She is also an academic reviewer for the Journal of Cognitive Neuroscience, Journal of Vision and Journal of Experimental Psychology: Human Perception and Performance. Among the many awards and grants she has received is the "Wellcome Trust Value In People Award," the "Vardinoyianio Foundation, Doctorate Award for Excellence in a Scientific Field" and the "Economic and Social Research Council (ESRC) award for postgraduate studies." Vaia has many publications in Scientific Journals and has presented in numerous conferences. She is a professional member of the Society for Neuroscience; the Cognitive Neuroscience Society; and the Vision Sciences Society. Vaia is one of the three instructors who share the teaching of the modules Applications of CBT 1, 2 and 3.

Mr. Dimitris Panagiotopoulos:

Dimitris completed his MA (Hons) in Philosophy at the renowned University of St Andrews, Scotland, and then went on to complete an MSc in Counselling Studies at University of Abertay Dundee, Scotland. He also holds a Postgraduate Certificate in Consciousness and Transpersonal Psychology, which is one of his main areas of interest and research. Dimitris has been teaching at NYC for a number of years and is a core member of the course teams for all programmes in the Psychology Deparment of NYC, teaching a wide range of courses. He teaches the module 'Psychological Principles of CBT' on the MSc CBT programme. His passion for teaching, as well as the individual attention he gives to his students make him one of the most popular instructors within the Psychology Department. He held the post of Assistant Head of Department in the past and has been involved in student academic advising for a number of years.

Dr. Natasha Soureti:

Natasha holds a PhD from Vrije University, Amsterdam and an MSc in Organisational Psychology, as well as an MSc in Health Psychology from the City University, UK, where she also acted as research assistant and visiting lecturer in 2002.  She has extensive experience in the area of Health psychology and health behaviour change projects, and is co-ordinator of the stop smoking program "Living without smoking" in Athens (www.quit-smoking.gr), a behaviouraly based program with the optional use of pharmacotherapy. She has trained in Cognitive Therapy and Eye Movement Desensitization Reprocessing (EMDR). Her work experience includes working for Unilever R&D in the UK as a behaviour change health Psychologist, and for Bart's & the London Queen's Mary School of Medicine & Dentistry, as a research health psychologist, where among her many responsibilities she helped in setting-up smoking cessation clinics in East London. She has numerous publications in scientific journals and is continuously involved in research projects and academia. Natasha is one of the three instructors who share the teaching of the modules Applications of CBT 1, 2 and 3. She is much appreciated by her students for her approachability and supportive style. As MSc CBT dissertation supervisor she assists students in continuing their research efforts by preparing articles for publication and presenting their papers in conferences related to their specific subject area.

Dr. Vasiliki Varela:

Vicky earned her BSc (Hons) in Psychology at the University of East London, and went on to earn her MSc in Social Psychology at the London School of Economics (LSE).  In 2007, she completed her Ph.D. at University College London's Institute of Cognitive Neuroscience, researching episodic memory retrieval in young eyewitnesses. She completed her post-doctoral training at Cambridge University (in Developmental Psychology) and is since working as a university lecturer on the subjects of Developmental, Cognitive, Forensic Psychology and Neuropsychology, as well as Research Methods and Statistics. She joined the NYC faculty in Fall 2015. Her research interests in psychology include cognitive neuroscience, decision-making, models, systems and pathologies of memory, attentional processes, language acquisition and disorders, applications of psychology in forensic settings and music perception. Vicky teaches research methods at undergraduate level, and the module 'Principles and Concepts in Research Design' on the MSc CBT programme, and is well-liked by her students for her enthusiasm and for being able to teach complex topics such as statistics and the use of SPSS, in a simple and meaningful way to her students.
Careers
The programme is designed to enhance practice and facilitate employment and career progression in psychology and therapy, research and teaching, the helping or health professions, social work, education, private practice and management roles where working with people is the prime focus.