UNYP Graduation Ceremony 2016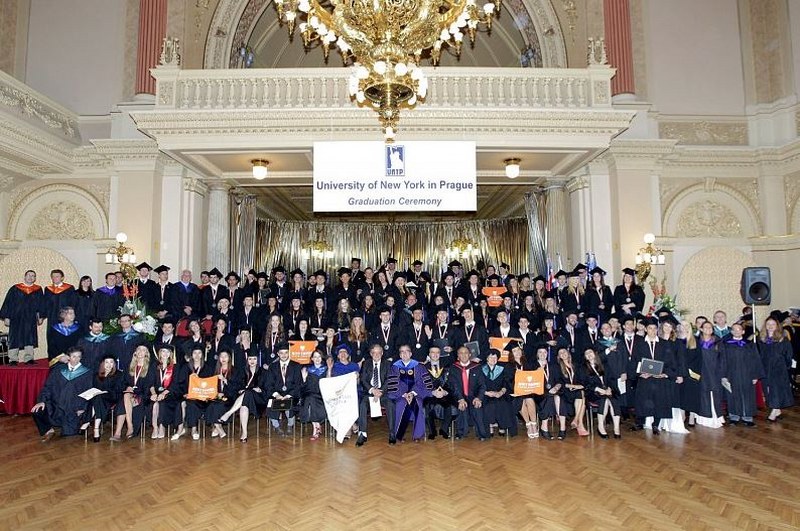 More than 150 graduates from 40 different countries received degrees from UNYP and our partner universities, the State University of New York, Empire State College, National American University, and Le Salle University.
Graduates earned degrees in Business Administration, Communications & Mass Media, English Language & Literature, International & Economic Relations, Psychology, Master in Business Administration, and Professional & Business Communication.
More than 600 guests attended the commencement ceremony to celebrate and congratulate their loved ones on their hard work and success. The event was also streamed online live so that friends and family, who were unable to attend the event, were still able to enjoy watching the graduates receive their degrees.
This year, the Keynote address was delivered by Dr. Thomas P. Mackey, Vice Provost for Academic Programs SUNY, Empire State College. While honoring the graduates for their hard-won academic achievements, he stressed the importance of now being responsible for the world we live in and encouraged the students to be active.
"In a globally connected world, another one of your responsibilities is to give back, and this could take many forms, perhaps giving back as a friend, colleague, or citizen. You may give back as a mentor to someone else; in the same way you have been mentored through your learning experience in Prague, or in other ways that reflect the same idea of guiding, challenging, and supporting someone else so they could achieve their own lifelong learning goals. By giving back you can help us provide access to learning and ideas and encouraging someone else to achieve their unique learning goals and objectives."
The 2016 graduates of the American Bachelor's Degree program offer by UNYP in cooperation with the State University of New York, Empire State College join a growing community of over 77,000 Empire State College alums. Our affiliation with the State University of New York is also notable since our graduates are joining a SUNY Alumni community that includes 3 million alums, and this large community includes leaders with influence around the world.
UNYP President, Elias Foutsis, closed the ceremony with a motivational address to the new graduates, "Do not hesitate for a second! Conquer your goals! Make your dreams come true! Fight for them! But also, share your goals and your dreams with the people around you. Make them believe in your vision! Use the strength of your soul, the passion of your youth, the values of the education that you obtained with us, to offer these to your country, to Europe, to Mankind itself!"
The professors and staff at the University of New York in Prague wish the graduating class of 2016 ultimate success in the future and ongoing personal growth and knowledge. We are remarkably proud of their determination, endurance, and accomplishment