School of Health and Sports Sciences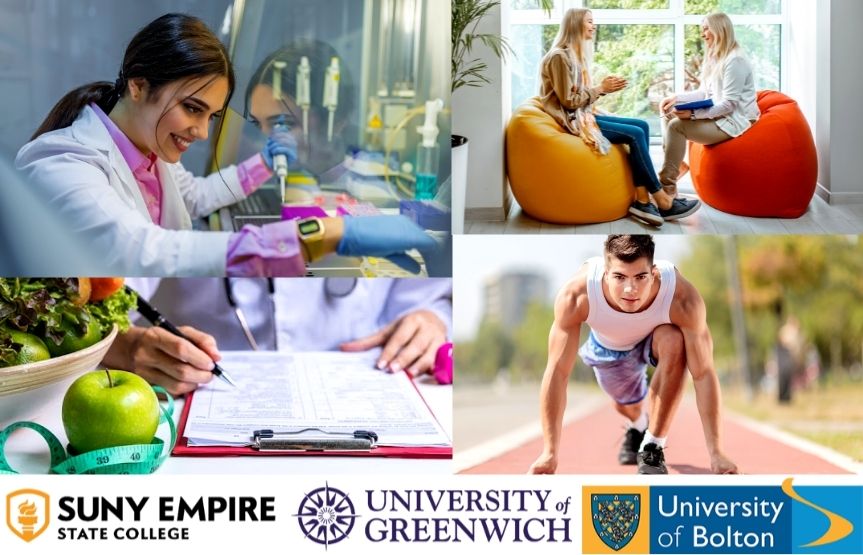 The college's School of Health and Sports Sciences, with the guarantee and credibility of the American and British educational community, offers curricula that combine theoretical with practical training in approved mental health, social support, diagnostic centers, hospitals, companies, gyms, sports clubs and teams, associations, and organizations.
Psychology Studies: With the quality stamp of state universities such as STATE UNIVERSITY OF NEW YORK/ESC and UNIVERSITY OF BOLTON, our degrees in psychology combine theoretical training with practical application in approved mental health and social support centers, with the guarantee and reliability of the American and British educational community.  A strong advantage is the team of professors comprising the Department of Psychology, with research, professional and teaching experience in Greece and abroad. Students completing their degree in Psychology are able to choose from many professional options, such as social services specialist, personal analyst, psychologist-psychotherapist, specialist consultant in psychometric development.  Graduates have the opportunity to apply for membership at the British Psychological Society (BPS) or the American Psychological Association (APA) and obtain the title of Registered Psychologists. The degree professionally leads graduates to counseling centers, educational organizations, clinics, non-governmental organizations, or a career as freelancers.
Studies in Dietetics and Nutrition: The degree in Dietetics and Nutrition combines theoretical training with the latest technology, offering graduates the opportunity and resources to work in the food industry, hospitals, nursing homes, nurseries, slimming and healthy eating institutes, food analysis laboratories, microbiology and research laboratories.
Studies in Biomedical Sciences: The degree in Biomedicine offered by the School of Health Sciences offers students detailed knowledge about human health and diseases, with emphasis on the pathogenesis of diseases, the way of diagnosis and therapeutic interventions.  Upon the completion of his degree in Biomedicine, the graduate has career opportunities in private health-care centers, veterinary services, forensic laboratories, research institutes and in the pharmaceutical industry. In addition, graduates will be able to pursue an academic career by obtaining additional degrees.
Studies in Sports Science, Exercise and Health: The degree in Sports Science and Coaching is the starting point for a wide range of academic-degree programs for the fundamental human function: movement. Students are invited to acquire basic knowledge about the fundamental differences between physical activity, leisure play, health, rehabilitative physical activity, sports and championship, and to earn the necessary knowledge and skills of sports sciences and coaching with the guarantee and credibility of the British educational community.

Greece since antiquity has developed the holistic approach "A healthy body, a healthy mind" («νοῦς ὑγιής σώμαν σώματι ὑγιεῖ») which includes the fundamentals of health, exercise, proper nutrition, noble rivalry ("εὖ ἀγωνίζεσθαι"), the Olympic Ideal and sports competition. Hippocrates, the founder of rational medicine, continues to urge us till today:
"Positive health and human functions require knowledge of man's primary composition (genetics) and of the nutrients of various foods, both those natural to them and those resulting from human skill (processed foods). Food alone is not enough for health and human function. There must also be exercise (training), in form, duration, intensity and frequency. With the lack of food and / or proper exercise, the body will weaken and fall sick ". 
~Hippocrates (480 BC).
Health & Sports Programmes
Bachelor's Degrees

Master's Degrees