Smaranda Iatic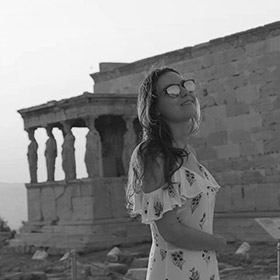 I completed a bachelor's degree in Psychology from Greenwich University, UK in cooperation with New York College, Athens (2014-2017). Before coming to New York College, I have studied General Social Sciences at Dawson College in Montreal, Canada. Now I work at ING Tech, in Bucharest, Romania, as an IT Recruitment Trainee. The college experience helped me improve my communication and organizational skills, and to adapt depending on the requirements, but I think the greatest accomplishment was represented by the knowledge and skills I have gained in the field of psychological research.
My degree prepared me for the job I have today by helping me improve my communication skills and learning a lot about social psychology, as well as cognitive and behavioural psychology, which are very useful in the interactions I have and in evaluating people (whether they are fit or not for a certain role). I liked a lot that the courses were very varied and I got to learn from many areas of psychology. I also enjoyed the structure they had and the way in which we worked and were evaluated. I also feel lucky to have been thought by some of the teachers we had. I really enjoyed studying at New York College, it was a nice and friendly environment. And I also liked very much the programme I graduated. I think it was a very good quality programme, very well structured and very interesting and it helped me gain actual knowledge in the field and shaped the way I think. It was not the kind of school where you just need to study for projects and tests and your schedule is really crowded and you feel like at the end you're going to forget everything. 
My advice to NYC students would be to pick a programme you are passionate about and to explore as much as you can, ask for feedback whenever you need it and don't be afraid to ask questions. Make the best of your experience!