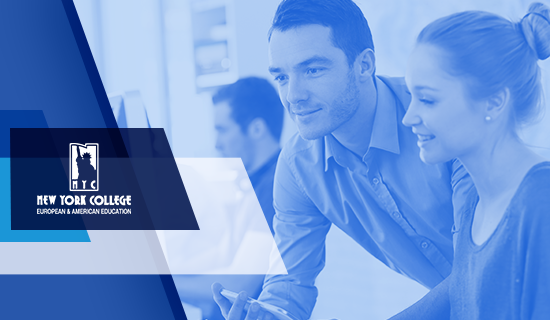 Digital Marketing Diploma/ Certificate
---
The aim of Digital Marketing Diploma/ Certificate is the complete training of the program's participants in the techniques of online marketing. All participants shall have the chance to be trained both on a theoretical level, through classes and hands-on, through workshops (labs). In addition, case studies in the Greek and global markets shall be studied throughout the course, as well as Digital Marketing Strategy, Social Media, Performance Marketing, A/B testing, Digital PR and Google Analytics.
The course's duration is 100 hours in total and shall run based on the blended learning model: 55 hours of face-to-face tutoring, in classrooms and labs, and 45 hours of distance learning via asynchronous e-learning training.
Each module is carried out through the students' involvement in a vast array of interactive activities and includes a theoretical introduction-presentation, application exercises and one evaluation test.

---
Course Details
Curriculum

At a Glance

Benefits

Program's audience
At a Glance
COURSE DURATION: 3 Months  
COMMENCEMENT: March 2020
DAYS & HOURS: Monday & Wednesday, from 18:00 to 21:00
COURSE LOCATION: NEW YORK COLLEGE 38 AMALIAS AVE, SYNTAGMA
Upon completion of the course, an Certificate of Attendance shall be provided to the participants.
Upon completion of the course, EDUCATIONAL MATERIAL shall be provided to the participants.
Information - Subscriptions:
TEL: +30210 3225961 | E-mail: marketing@nyc.gr
Benefits
After the course's completion, the participants will have enhanced the skills listed below:
Knowledge of digital marketing's fundamentals
Experience in the setup of Google AdWords and Facebook/Instagram campaigns
Ability to measure effectiveness through Google Analytics
Elaboration of digital strategy
Ability to send out targeted newsletters
Experience in Digital PR/Influential Marketing
Experience in creating purposeful Social Media content
Familiar with the A/B testing and evaluation of relevant results
Program's audience
The course is suited for senior executives, working in Advertising and Marketing and who wish to deepen their knowledge in digital marketing, and for Financial Services' Managers, Sales Managers, executives and professionals who wish to start a career in the field of Digital Marketing, business owners, self-employed individuals who are interested in promoting their services or products digitally, students etc.