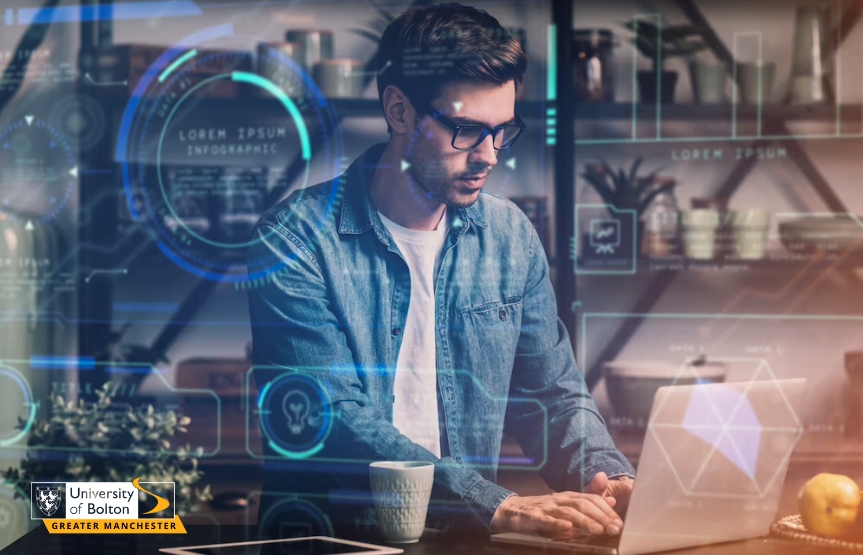 MSc Data Analytics & Technologies
---
Are you ready to join one of the most advanced postgraduate programs? The University of Bolton's MSc Data Analytics & Technologies degree program, taught entirely at NEW YORK COLLEGE in Greece, is the ideal choice for those who want to develop or enhance their skills in Data Analysis and secure a long-term job in this new field of Business and Research.
With the Data Analytics and New Technologies postgraduate degree program, you will acquire skills in the fundamental principles of Data Analysis and learn to use the most advanced tools and techniques in the industry. Key topics covered include the analysis and interpretation of large volumes of data, prediction and discovery of patterns and trends from the processing and management of business data, machine learning, analysis of various types of data (text, image, social media, etc.), natural language processing, and more.
The master's degree is one of the most important programs in the field of Informatics and is offered in collaboration with one of the top universities in the UK, with tutors and researchers who are experts in the field of Data Analytics. Additionally, you will have the opportunity to collaborate with other students and professionals from different fields, networking and creating international collaborations that can help you further in your career.
After completing the program, you will have the opportunity to work in a wide range of industries, including healthcare, finance, technology, digital marketing, and business administration. Data analytics is one of the fastest-growing professional fields today, and career opportunities are limitless.
The programme has been validated by University of Bolton and is in the final stage of formalities for the licensing procedure by the competent authorities.
---
Λεπτομέρειες
Curriculum

Careers

Professors

Magazine
Curriculum
Data Science
Big Data Technologies
Research Methods
Masters Project
Solution Design and Ethical Practice
Language: English
Duration: The full-time programme is 12 months (plus 6 months for thesis writing) and the part-time course is 24 months (plus 6 months for thesis writing). The modules are offered mainly on Friday afternoons and Saturdays so as not to hinder the students' work schedule.
Entry requirements:
An undergraduate Honors degree in Computing, Computer Science, Software Engineering, Business, Management, or any related subjects, usually with a first or upper second classification.
IELTS 6.0 or equivalent
An interview is required to consider applicants suitability.
Careers
As graduates of this specific program, you will have the opportunity to work in positions such as Data Analysts, Business Analysts, Data Scientists, Big Data Analysts, CRM Consultants, Researchers, and others.
Employment opportunities for Data Analysts are numerous and are constantly increasing, as Data Analytics becomes increasingly important for businesses and organizations in all fields. It is worth noting that during the week of 20-24/03/2023, there were 517 open job positions in Athens for Data Analysts and related fields on the job search engine of LinkedIn.
Specifically, some of the employment opportunities that a data analyst can seek are:
IT companies and consultants
Banks and financial organizations
Healthcare services and pharmaceutical companies
Technology and software development companies
Retail companies and consumer products
Educational organizations
Research and Development
Business Administration
Digital Marketing
Professors
Magazine