A health promotion workshop: healthy lifestyle attitudes and how they affect behavior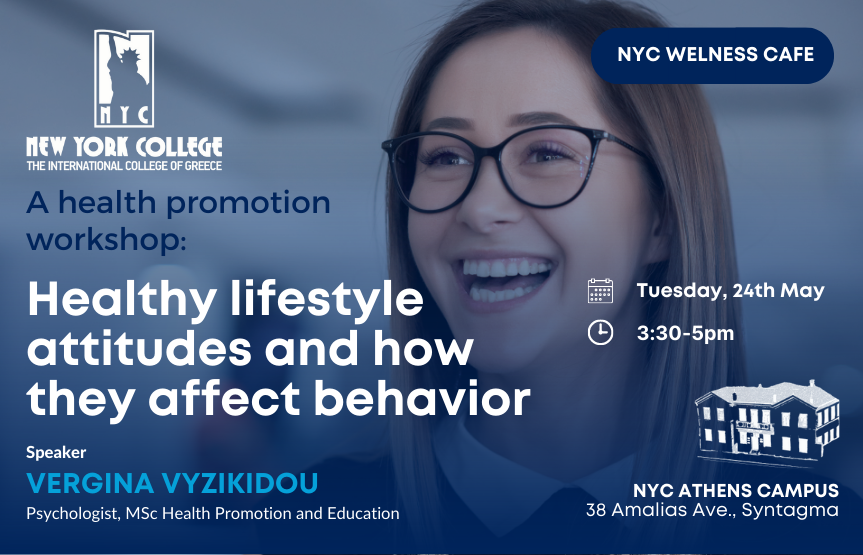 New York College cordially invites you to attend
A health promotion workshop: healthy lifestyle attitudes and how they affect behavior
presented by: Vergina Vyzikidou, Psychologist, MSc Health Promotion and Education.
Join us on Tuesday, 24th May, 3:30-5pm, Room A1, NYC Athens Campus (38 Amalias Ave., Syntagma)
The workshop aims to equip the participants with evidence-based knowledge and skills for healthy lifestyle attitudes. The goal is to promote awareness on public health issues through an interactive experience and emphasize on the positive reasons of avoiding harmful attitudes and the health benefits of healthy living. Some of the topics covered included are the tips for balanced diet, health effects of heavy drinking and smoking, the toxic components of tobacco, nicotine addiction, different forms of smoking, passive smoking, techniques of quitting smoking, health benefits of regular exercise, getting enough sleep and rest, reduce stress and promote mental health. 
Certificates of attendance will be provided
 • The seminar will be in English Language •
Πρόσκληση
Registration Form
Πρόσκληση