NYC upcoming lecture following the human rights day on 10.12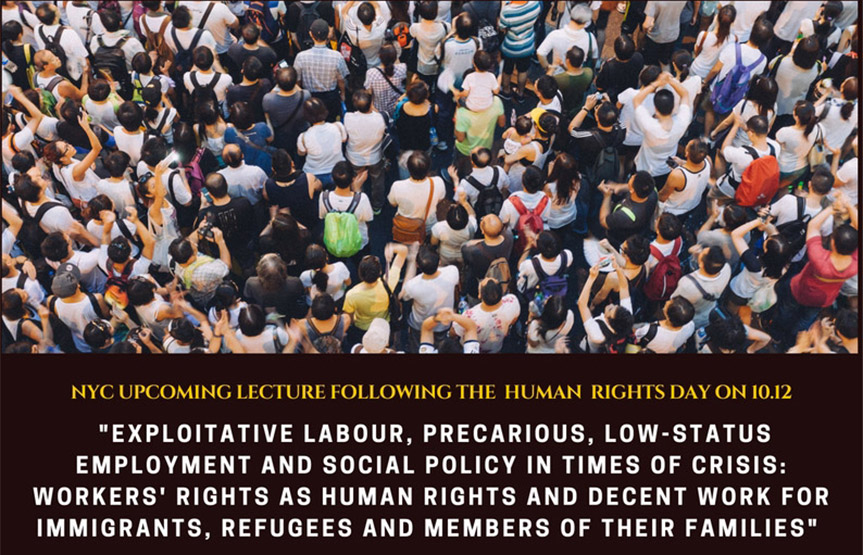 Title: "Exploitative Labour, Precarious, Low-Status Employment and Social Policy in Times of Crisis: Workers' Rights as Human Rights and Decent Work for Immigrants, Refugees and Members of Their Families" 
Date: Thursday 8 December at 12:00, Room A1 | New York College, 38 Amalias Avenue, Syntagma
Lecturer: Theodoros Fouskas, PhD, Sociologist, Department of Social Work, Τechnological Educational Institute (TEI) of Athens, Greece
Bio: Dr. Theodoros Fouskas is a sociologist. He specializes in migration, migrant labour and migrant community organizations. Also in integration of third country nationals, irregular migration, access of migrants to healthcare, labour solidarity, political participation and trade unions in the reception societies. He has been an Assistant Professor of sociology and migration in the Department of Professional Training of Police Officers-Executives at the Hellenic Police School of Further Education and Training (2011-2017, Greece), a Laboratory Assistant in the Department of Social Work at the Technological Educational Institute (TEI) of Athens (2016-2017 and 2014-2015) a Lecturer in the Department of International Relations at New York College (NYC) in co-operation with the State University of New York/Empire State College (2013-2014, Greece) and a Visiting Lecturer at the Institute of Training of the National Centre for Public Administration and Local Government (2012-2015, Greece). Moreover, he has lectured (2008-2012, Greece) in co-operation with the Department of Primary Education at the University of Patras, the Department of Social and Educational Policy at the University of Peloponnese and the Department of Sociology at Panteion University of Social and Political Sciences.
He studied Sociology (2004) at the Department of Sociology in Panteion University of Social and Political Sciences (Greece) where he completed his doctoral thesis (2010). He has been presenting papers at international and national conferences on the repercussions of precarious, low‐status/wage work on the organization and representation of migrants, using qualitative research methods, since 2007. Moreover, he has organized many national and international conferences and workshops.
He is the author of the monographs: Nigerian Immigrants in Greece: Low-Status Work, Community, and Decollectivization (Nova Science Publishers, 2014) and Immigrant "Communities" and Work Representation: The Consequences of Low‐Status Work of Five Immigrant Groups on the Participation in Their Work Associations (Papazisi Publishers, 2012, in Greek). He is co-editor of the collective volume: Contemporary Immigration in Greece: A Sourcebook (European Public Law Organization Publications, 2014). Recent articles of his are: "Low-Status Work Repercussions on Egyptians' Collective Organisation" [2014, International Journal of Sociology and Social Policy, 34(7/8):418-437], "Low‐Status Work Consequences on Immigrant Workers' Organization: The Cases of Five Immigrant Groups in Athens" [2013, International Review of Sociology, 23(1):671-698], et al. 
Currently, he prepares the edited collective volune Immigrants and Refugees in Times of Crisis (European Public Law Organization Publications, 2019).
Since 2005, he has participated as project director and researcher in various European and national research programmes for migrants, refugees and other vulnerable groups. His recent research projects include: the study of the operation of the Migrant Integration Councils (MIC) in Greece and the participation and representation of migrants at local level through these consultative bodies (EIF/EU, 2011-2013), the detection, transcription, and analysis of inequalities to healthcare access for migrants living in Greece (THALIS/NSRF, 2012-2014), the examination of the impact of precarious, low‐status/wage work on the collective organization of Nigerian immigrants in Greece (2010-2014), the dissemination of information on voluntary return: how to reach irregular migrants not in contact with the Authorities (EMN/EU, 2015), the integration of beneficiaries of international/humanitarian protection into the labour market (EMN/EU, 2015) and the study of the itinerant trade/street vending and the case of immigrants from Pakistan in Greece (2017-2023).
FREE ENTRANCE | THE LECTURE WILL BE GIVEN IN ENGLISH
More information: studentaffairs@nyc.gr, www.nyc.gr
Poster