Stalking a complex crime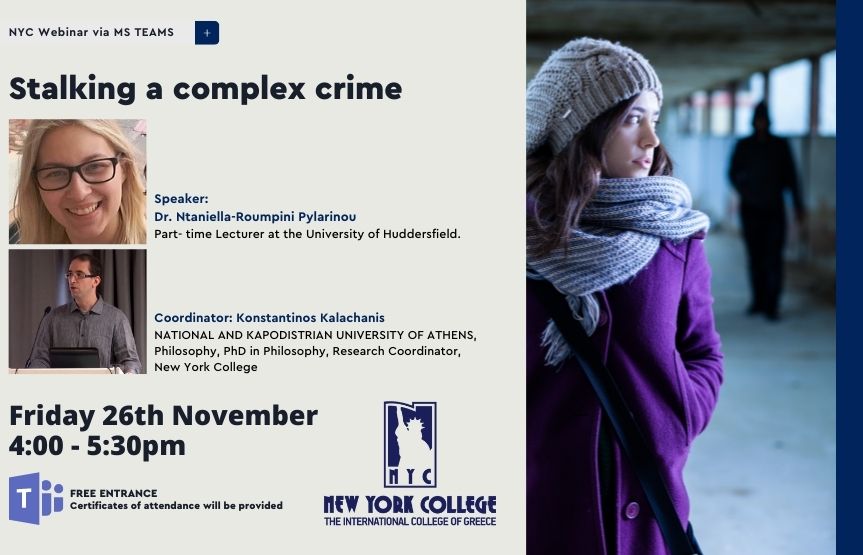 New York College cordially invites you to attend a seminar on: "Stalking a complex crime ",
presented by: Dr Ntaniella-Roumpini Pylarinou, part- time Lecturer at the University of Huddersfield.
Join us on Friday 26th November 4-5:30pm via MS Teams.
Stalking is a complex and serious crime that can have an effect in every aspect of a victim's life. From the victim's emotional wellbeing to their psychological wellbeing and in some cases their physical wellbeing. It can also have an impact on the victim's friends and family. Stalking was first recognized as a crime during the 1990s with the case of Rebecca Schaeffer who was murdered by her stalker. In the seminar every aspect of the crime will be discussed from Victimization to Perpetration. Moreover, it will be examined how Stalking Myths can affect both victims and perpetrators and what it can tell us about the future of the crime. How Stalking typologies have been developed to understand the different types of stalkers and the stalker's motives for pursuing another individual. Finally, famous stalking cases will be discussed to illustrate that each stalking case is unique and how difficult it is to prosecute and convict someone for this crime.
Presently, Dr Ntaniella Pylarinou is a part- time Lecturer at the University of Huddersfield and teaches at the MSc Investigative Psychology. She completed her PhD which focused on Stalking: Perpetration, Victimization and Stalking Myth Acceptance in Greece and the United Kingdom.  Ntaniella has published articles related to the field of Investigative Psychology. Currently she contributes to research projects, such as human trafficking and modern slavery, stalking and internet facilitated sexual offending. Other research interests include cyberstalking, tax fraud, revenge pornography, human trafficking, and sex-trafficking. 
Certificates of attendance will be provided
The seminar will be in English Language.
INVITATION
Registration Form