Educational visit of NEW YORK COLLEGE at the CAPSIS Hotel in Thessaloniki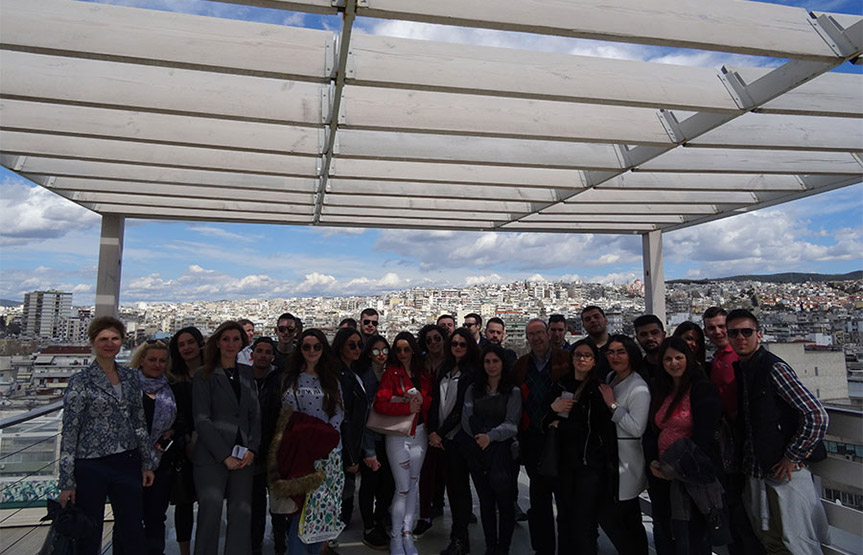 On Tuesday, March 13, 2018, a New York College student visit was held at the CAPSIS Hotel in Thessaloniki.
Capsis Hotel Thessaloniki, 50% of which was owned until the early 1990s by the Varda family, was entirely bought by Lena Capsis and after undergoing a complete renovation was upgraded from a 3 to a 4 star hotel. It remains still the largest city hotel in northern Greece and has one of the largest convention centers. Ιn the late 1990s, Lena Capsis founded the Bristol Hotel in the Ladadika district of  Thessaloniki, the first Boutique Hotel in the city. The hotel is run today by Irini Manousou, daughter of Lena Capsis, and the Bristol Hotel remains one of the most luxurious and cozy hotels in Thessaloniki. The 21st century finds Capsis Hotels on a new path. They are evolving into Art and Cultural Hotels. Art and Culture has always been present in the decor of the hotels, since items of Lena Capsis' personal collection can be seen throughout the hotels. The new generation of the Capsis family is now transforming areas of both hotels into "alternative galleries" of art. Its facilities are decorated with amazing artworks, while major events of art and culture take place within its hotels, bringing artists and art lovers from all around the world together.
A guided tour of the hotel was held, where students had the opportunity to attend all the functions, as well as talks-presentations by hotel executives on the Marketing and Sales management of the Group.