Online Conference "Development: The Other Road"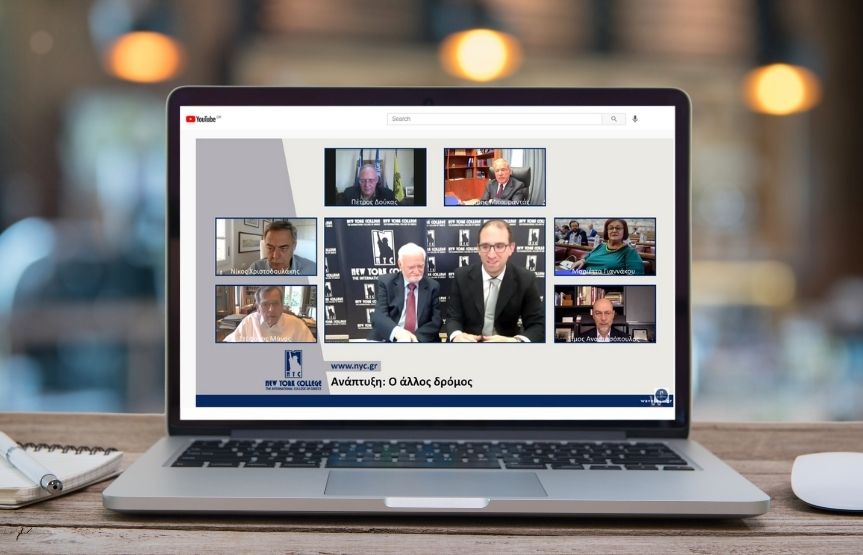 On May 11th, 2021, the School of Business Administration of New York College Educational Group and the International Chamber of Commerce (ICC Hellas), held an Online Conference entitled "Development: the Other Road" with the participation of distinguished representatives from the academic community, but also from the political life of our country.
The aim of the Conference was to point out our country's great potential for a successful development model, that will be based on research and innovation, but also on strengthening the primary sector.
In his greeting, the Deputy Minister of Research & Technology, Mr. Christos Dimas, referred to the government's actions for the creation of a legal framework to support research and development.
In his presentation, Dr. Nikos Katsaros, Vice-President of New York College, stressed the significant potential for the development of primary and agricultural production in our country, in conjunction with the adoption of innovative technologies. Furthermore, Mrs. Marietta Giannakou, Member of State, former Member of The European Parliament and Minister, referred to the concept of sustainability and its relationship with environmentally friendly technologies.  For his part, the former Minister of National Economy & Finance, Mr. Stefanos Manos, referred to the chronic side effects of the Greek state that are a brake on growth, while the former Minister of National Economy & Finance, Mr. Nikos Christodoulakis, Professor of Economic Analysis at the Athens University of Economics & Business, conducted an overview of the potential of the Greek economy, but also of the opportunities offered by the education of young people in modern skills.  Mr. Petros Doukas, Mayor of Sparta and President of ICC Hellas, stressed the role of staff evaluation, but also the possibilities of exploiting the cultural capital of the country. Finally, Professor and Rector of New York College, Mr. Dimitris Bourantas, referred to the role of contemporary management in the Economy, while the President of the Competitiveness Council, Mr. Simos Anastassopoulos, spoke of the legislative framework governing the development and improvement of the country's productive capacities, but also about the adoption of relevant good practices.
Watch the video of the event here: https://youtu.be/r4t_WmbizOk
Stay up to date on all New York College events with FREE WATCH here: www.nyc.gr/about-nyc/events
The New York  College Educational Group will continue to lead the educational and business events of Greece and internationally, strengthening the public dialogue between the business, political and academic community of our country.