Alexandros Drakoulis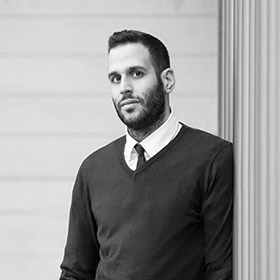 Lund University Formula Student Engineering
BA Marketing and International Relations, State University of New York, Empire State College (2013)
After graduating High School, I was enrolled in the Technological Institute of Piraeus where I was a Mechanical Engineering student. Fortunately, I soon realized that being a Mechanical Engineer was not my passion and therefore I continued my studies in Marketing at NYC- SUNY/ESC. I graduated in July 2013.
I just graduated from Lund University in Sweden, where I completed my Master's Degree in International Marketing and Brand Management. Throughout my studies, I was also part of the Marketing and Branding team of Lund University Formula Student Engineering (LUFSE), where I was responsible for the re-branding of the organization and for establishing partnerships with several stakeholders of the project.
Due to the nature of my studies I was able to recognize the target market of our organization and also to understand their needs and their wants. This was extremely important since we are a non-profit organization and I should propose a mutually beneficial offer to our prospective clients in order to cooperate with us. In addition, knowing the characteristics of our target market it helped me, and our team, to better build our brand and our website in a way that we could more easily attract donors. We also made ourselves more attractive and recognizable in an effort to make our prospects being more associated with our cause and eventually support us.
Apart from that, my studies provided me a good base in comprehending the corporate world, as well as improving several personal skills (being a team-player, ability to multi-task, negotiation skills etc.)
What I liked about the NYC program was its structure which allowed me to be flexible and being the one who decides the courses for each semester was a big plus from me. In addition the instructors of the courses and the overall staff were of great help in completing my studies successfully. I have nothing but deep respect to all of the people in NYC- SUNY/ESC, which made me think more open-minded and brought out the best in myself.
Being a Valedictorian of my class is something I would never have achieved if I wasn't inspired and motivated by my professors at NYC- SUNY/ESC. Apart from that, studying solely in English and having the experience of the multicultural environment of the college was a great advantage for me.
My advice for current and/or incoming students is not to be lazy! After all, everything you do is for your own good. You shouldn't earn a degree to make your parents proud or hang on your wall. Study hard in order to achieve your personal aspirations and goals. It is not by luck that I got admitted for my Master's Degree in one of the Top 100 Universities in the world, it was simply because I tried a lot and got a high G.P.A. Again, study hard and nothing can stop you.
https://se.linkedin.com/in/alexandrosdrakoulis