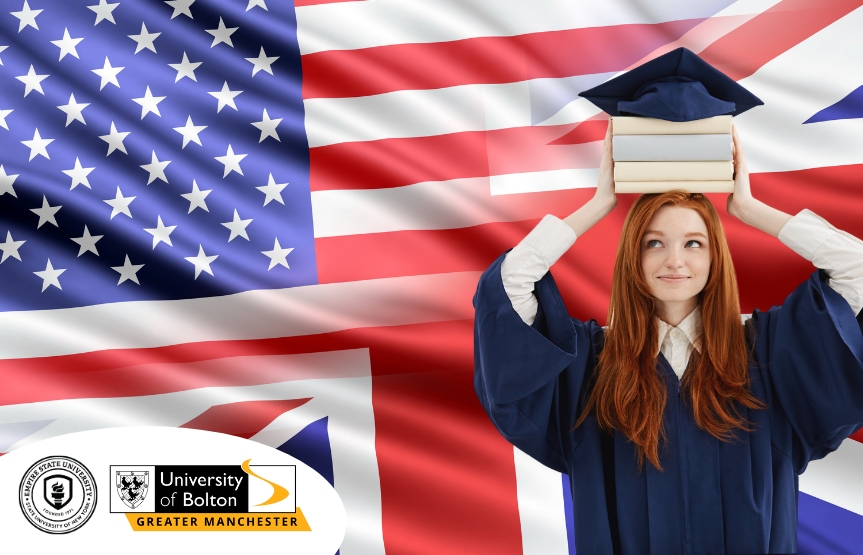 DUAL DEGREE in Business Administration
---
The university program for the degree (DUAL DEGREE) Bachelor in Business Administration and with studies entirely at NEW YORK COLLEGE in Greece, is a unique educational offer. Our students have the opportunity to benefit from the advantages offered by the combination of the English and the American educational system and obtain two University degrees, from the British State University, the UNIVERSITY OF BOLTON, and the largest state university in the US, the STATE UNIVERSITY OF NEW YORK-ESU, in just 4 years.
The curriculum provides our students with a strong background in the field of Business Administration, with expanded knowledge and skills such as practice in the business world, case studies and presentation skills, essential in the Greek and international job market. Following a carefully designed educational path, they acquire the knowledge provided by the American pluralistic education system and the targeted specializations offered by the British education system, giving them the opportunity to choose between seven modern specializations (Entrepreneurship, Marketing, Human Resource Management, Law, Finance, Supply Chain Management or Retailing). At the end of the programme, students will have acquired the necessary skills to take on management roles in any type of business or organisation in the public or private sector, for a career without borders!
The program has been approved by the STATE UNIVERSITY OF NEW YORK/ESU, USA and the UNIVERSITY OF BOLTON, UK and is in the final stage of formal licensing procedures by the relevant authorities.
---
Λεπτομέρειες
Curriculum

Careers

Professors

Magazine
Curriculum
Level 3 Introduction to Degree Studies I, Management in Practice, Introduction to Degree Studies II, Computer Science & Statistics for Management, Applied Finance, Digital Marketing in Practice
Level 4 Commercial Law, Business Environment, Professional and Academic Skills, Modern Marketing Issues, Information Systems and Large Scale Data Analysis, Human Resources and Performance
Level 5 Business Administration and Career Development Internship (200 hours), Leadership and Team Management, Project Management, Business, Innovation and Creativity, Financial Management and Decision Making
Level 6 Dissertation, Business Strategy
Personnel Management: International Personnel Management, Learning and Development, Industrial Relations
Business: E-Commerce & Contemporary Marketing Issues, Advanced Commercial Law, Financial Reporting
Financial: Financial Statements, Practical Applications, Financial Accounting & Regulatory Framework
Law: Corporate Governance, Advanced Commercial Law, Labour Relations
Marketing: E-Commerce & Contemporary Issues in Marketing, Global Consumer Behavior, Integrated Digital Marketing Campaigns
Retail: Retail Management, Consumer Behavior, Digital Marketing Campaigns
Supply Chain Management: Strategic Information Management, Supply Chain Management, Logistics and Operations Management 
Educational Planning, Biological Psychology, US History & Civil Rights or Ethics or Images of Women in Western Culture, World History/ Global Awareness course or Diversity course, Statistics, Business Ethics, Operations Management, International Business
Careers
Graduates of the programme have a huge competitive advantage in the labour market, as they can pursue careers in multinational European and American companies that expect their executives to have the knowledge and skills to cope with a complex and volatile economic, social and multicultural environment. As holders of the degree-DUAL DEGREE-in Business Administration, graduates are given the opportunity to continue their studies at postgraduate and doctoral level.
Professors
Magazine