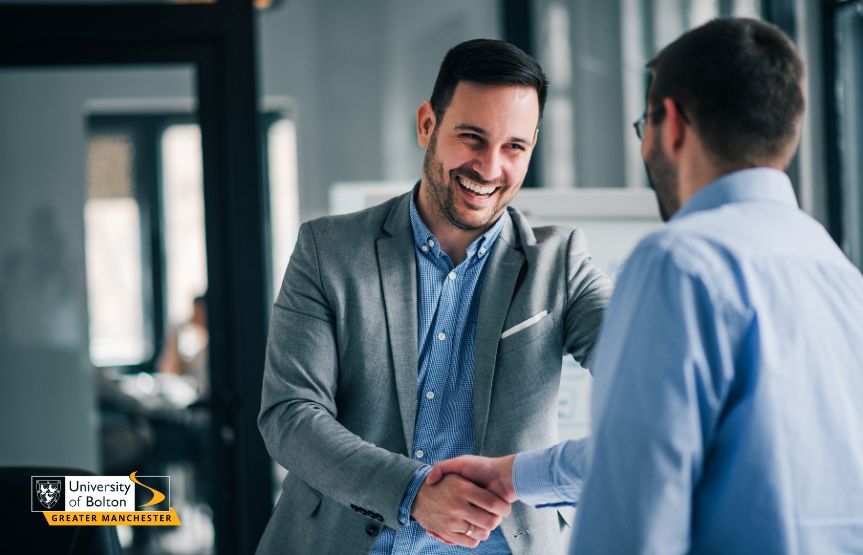 BSc (Hons) Business Management -People Management, Enterprise, Finance, Law, Marketing, Retail, Supply Chain Management
---
This programme provides you with a solid foundation in business management while taking advantage of specialised knowledge in the area you are interested in more. The programme prepares you for a career in business and management. You will develop essential knowledge and skills within a regional, national and international context. Distinctive features of the programme include a focus on practice, teaching by a truly dedicated and supportive team, with specialist knowledge in a wide range of subject areas, and close links to business and industry and the opportunity to choose one out of seven modern and highly relevant to the job market specialisations in the final year.
For the 4 year programme:
Duration: Four (4) years – Entry to Level 3
Academic Semesters: Two (2)
Exam Period: January, May
Entry Requirements
A pass mark in your High School Certificate
A good standard of English (IELTS 5.0 or a recognized equivalent).
For the 3 year programme:
Duration: Three (3) years – Direct Entry to Level 4
Language: 3 years in English
Academic Semesters: Two (2)
Exam Period: January, May
Entry Requirements
A mark of 15 or more in your High School Certificate
A very good standard of English (IELTS 6.0 or a recognized equivalent).
Language: Greek - English
---
Λεπτομέρειες
Curriculum

Careers

Professors

Newsletter
Curriculum
Level 3
Academic English Skills 1
Business In Practice
Academic English Skills 2
World of Work
Applied Business Finance
Practical Digital Marketing
Level 4
Financial Decision Making for Business
Business Environment
Professional and Academic Skills Development
Contemporary Issues in Marketing
Information Systems and Big Data Analysis
People and Performance
Level 5
Business Management and Career Development (work placement – 200hrs)
Leading and Managing Teams
Project Management
Enterprise, Innovation and Creativity
Business Case Study Analysis
Level 6
Dissertation
Strategic Management
Strands:
Human Resource Pathway:
Intl HRM
Learning & Development
Work & the Employment Relationship
General Business Pathway:
Retail Management
Advanced Company Law
Professional in Practice
Finance:
Financial Reporting for Management
Professionals in Practice
Financial Accounting & the Regulatory Framework
Shipping:
Commercial Management of Ships
Maritime Economics      
Maritime Law and Maritime Insurance
Marketing:
E-Commerce & Contemporary Issues in Marketing
Global Consumer Behaviour
Integrated Digital Marketing Strategy
Management Systems Pathway:
Strategic Information Management
Advanced Data Analytics
Information Security and Risk Management
Supply Chain Management:
Strategic Information Management
Supply Chain Management
Logistics & Operations Management
Careers
Business management qualifications open doors and are considered essential whether you are looking to pursue a career in business or achieve higher levels of responsibility in your current work. Our BSc (Hons) in Business Management offers a strong grounding in an essential range of contemporary business management subjects combined with the opportunity to focus your studies in the final year. You can graduate with a general BSc (Hons) Business Management or choose to transfer to one of our seven named.
Professors
Local Course Manager: Kelley Galloway
Kelley has been involved in the University of Bolton programme since 2018 and teaching at New York College since 1994. She holds a Bachelor degree in Social Science from Richmond: the American International University in London and a Masters degree in Sociology from the London School of Economics. Her experience of both American and British educational systems as well as her sociological training enables her to advise and assist students throughout their studies.
Local Tutors
Alexander Coutroubis, PhDc – Alexander is the Director of Maritime Studies at NYC. He is also a Member of the Athens Bar Association and has his own Private Practice specializing in Corporate/Commercial Law. He holds a LLB (Hons) from the University of Greenwich and a LLM from the London School of Economics. He is the tutor for the Business Law module.
His innovative teaching techniques have helped students learn more than just the course material.
Dr. Iakovos Arapoglou – Akis specializes in Business Statistics and International Economics. He holds a PhD from The City University of New York (Graduate School) as well as a Masters of Arts in International Relations. He has been at NYC since 1995 and is a much appreciated faculty member. Students enjoy his approach to teaching that includes current examples, especially those related to the economic crisis in Greece, linked with economic theory and presented in an understandable manner. His course, Business Environment, combines all of his areas of expertise.
Penny Vlagos – Penny has been teaching at NYC since 1999 specializing in Human Resource Management and Organizational Behaviour. Through her professional experience as an HR Manager, she is able to pass on to students actual examples from working in both the US and Greece. With a Bachelor degree in International Business and an MBA from Loyola University, she has a wealth of knowledge related to business subjects. Penny also frequently invites professionals from HRM and NYC Alumni to speak in her classes. Students greatly enjoy her lively teaching style, enthusiasm for course material and approachable manner.
Dr. Vassilis Skianis - Vassilis holds a Bachelor degree in Banking and Financial Management from the University of Piraeus, a Master degree in Economics from New York University, and a PhD in Environmental Economics from the London School of Economics and Political Science. He is also a research associate and participates in the organization of international academic conferences with Athens Institute for Education & Research (ATINER). Vassilis has been involved in various research (EU FP7 and H2020) and consulting projects.
Kyvele Constantina Diareme, PhDc – Kyvele is finishing a PhD in WebGIS (Web Geographic Information Systems) in the Informatics Laboratory, Department of Agricultural Economics and Rural Development, at the Agricultural University of Athens (AUA). Her research interests include WebGIS, Personalized/Team Touring, Tour optimization. She holds two Master of Science degrees - in Geoinformatics and her thesis subject was "Personalized routing in outdoor spaces (touring): route planning techniques and algorithms" and in Agricultural Economics and Rural Development/Degree in Agronomy – thesis subject "Development of an Information System for agricultural supply warehouse management". She has also participated in the Greek Open Courses e-learning program dedicated to the adaptation of courses taught at Greek Higher Education Institutes to the digital environment. For the University of Bolton programme, Kyvele is the tutor for IT and Big Data Analysis.
Newsletter