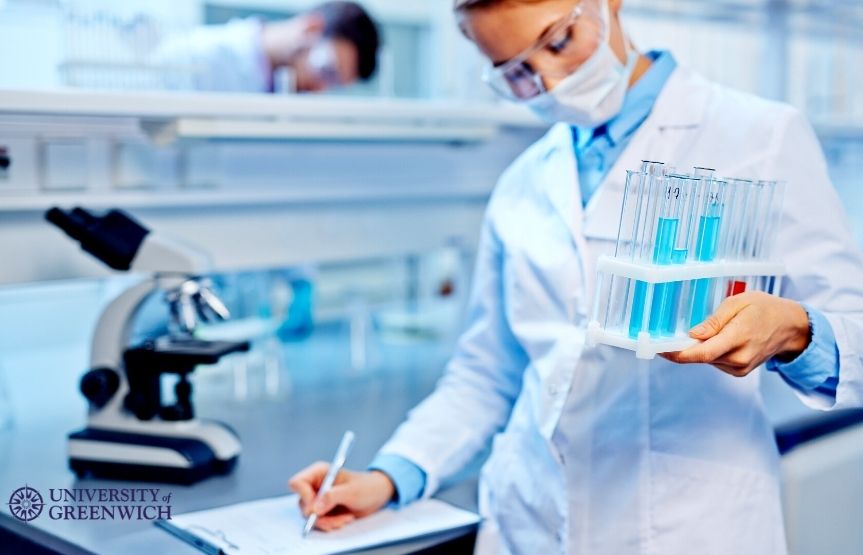 Bachelor in Biomedical Sciences
---
This programme is designed to provide students with a detailed study of human health and disease, focusing on the pathogenesis (mechanism) of disease, diagnostic pathway and therapeutic intervention. It provides preparation for careers in medical diagnostic and research environments. The first year of this programme is intended to be a foundation for the more advanced studies in subsequent years. Approximately one quarter of the programme is taken up with practical-based courses that build students skills in this area. The second and final years take skills and theoretical development to more advanced levels. In the final year, students also carry out an independent research project that comprises one quarter of final-year study. Also all students have their practicum in recognized hospitals. The students get their BSc from University  of Greenwich.
---
Λεπτομέρειες
Curriculum

Careers

Professors
Curriculum
Year 1
    Fundamentals of Biochemistry
    Fundamental Biology and Physiology
    Basic Chemistry for Life Sciences
    Practical and Professional Skills-Life Sciences
    Practical and Professional Skills
    Introduction to Medical Science
Year 2
    Bioanalytical Techniques
    Cell Biology and Immunity
    Metabolism and Disease
    Genetics
    Physiological Systems and Regulation
    Cellural and Molecular Pathology
    Research and Professional Skills for Life Sciences
    Microbiology and the Environment
Year 3
    Cancer Biology and Therapeutics
    Planning for Personal and Professional Development
    Advanced and Clinical Immunology
    Medical Biochemistry
    Medical Microbiology
    Haematology and Blood Transfusion
    Project
Duration
The BSc (Hons) in Biomedical Sciences is a 3-year full-time programme, taught exclusively in the English language. Courses are offered within a two-term period, with two exam periods in May and August.
Careers
On completion of the programme the successful graduate will enjoy a wide variety of opportunities in health-care private centres, veterinary service, forensic laboratories, research institutions, and the pharmaceutical industry. In addition, graduates will be able to pursue academic careers with the completion of further degrees.
Professors