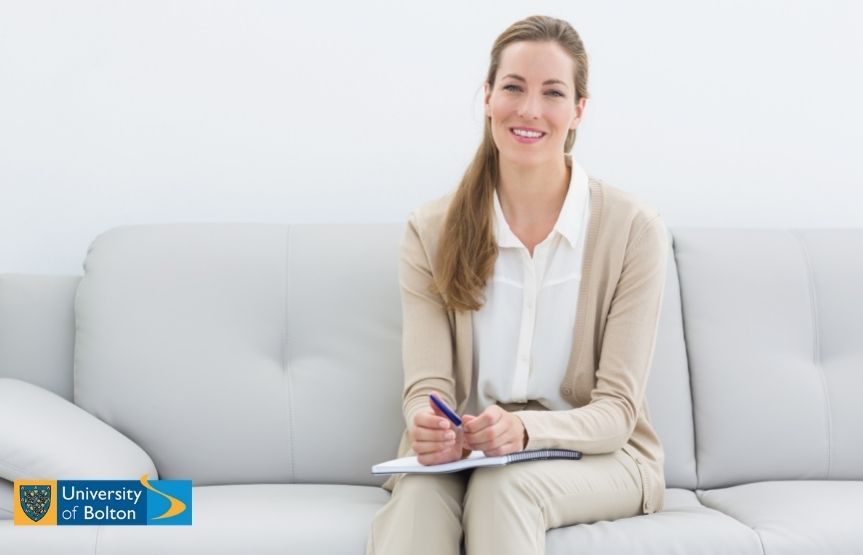 MSc Counselling and Positive Psychology
---
The master's programme MSc Counselling and Positive Psychology of the University of Bolton is an 18 month full-time programme which involves the comprehensive study of selected areas in counselling and positive psychology at an advanced level, and the acquisition of advanced professional practice and research skills. Topics covered include Positive Psychology theory, research and practice, therapeutic counselling and research methods for counselling and coaching. The programme includes120 hours of supervised clinical practice. Graduates will be able to apply the skills learnt on this MSc within health and social care settings, private practice, research and teaching, and management roles where working with people is the prime focus.

Graduates can become members of the British Association for Counselling and Psychotherapy (BACP), the International Positive Psychology Association and the Hellenic Association of Positive Psychology (upon individual application).
---
Λεπτομέρειες
Testimonial

Curriculum

Careers

Professors

Newsletter
Testimonial
Student Testimonial
"First of all, I would like to express my gratitude to my Programme Leader Dr Svensson for all her help and time advising and supporting me at the start of my Masters degree and throughout, whenever I faced any obstacle or challenge in fact. I am very happy to be an MSc in Counselling and Positive Psychology student at New York College. I really like my studies and, in addition, I love my tutors. Ms Sachperoglou, who has two Masters degrees in Counselling Psychology and Health Psychology, as well as many years of teaching experience, taught our first module "Therapeutic Counselling". This provided an excellent theoretical foundation as well as experiential learning through role play, which was the first pleasant surprise. I admire her ability to enthuse her students and transmit learning. I also admire Dr Varela with her wealth of experience (her two Masters degrees and PhD in Cognitive Psychology from UCL) and the way she guided us and inspired us with psychological research methods. Never before have I had the privilege of being taught by such high-level tutors!" 
Alla Veremchuk
MSc Counselling and Positive Psychology student 2021-22
Curriculum
The programme includes the following modules:
Therapeutic Counselling
Foundations of Positive Psychology
Positive Psychology in Practice
Supervised Counselling Practice 1
Qualitative Inquiry
Research Methods for Counselling and Coaching
Positive Psychology Dissertation
The distinctive feature of this master's programme is its flexibility, as classes take place only on Friday evenings and Saturdays, so that professionals can combine post-graduate studies with working. All courses are delivered in English.
To enter in the programme, students must have:
A good standard of English (IELTS 6.0 and above)
A good Bachelors degree in Psychology, or a relevant area, at 2.1 or above (those who have a 2.2 may be accepted after a successful interview)
Experience in a support capacity in one to one helping roles
Two satisfactory references (one academic and one from employer/ volunteering organisation)
Counselling qualifications will be an added advantage but not an essential requirement
Careers
This course is designed to enhance practice and facilitate employment and career progression in counselling and positive psychology within health and social care settings, private practice, research and teaching, and management roles where working with people is the prime focus.
"The MSc in Counselling and Positive Psychology offers a unique opportunity for students to gain competence from two disciplines and thus the opportunity to have a wide variety of job roles within practice, education and training, business, healthcare, charities and government agencies."
Marsha Koletsi, CPsychol, AFBPsS Psychologist, Cognitive Behavioural Psychotherapist and Accredited Supervisor of the British Psychological Society
 "The ability of graduates to provide counselling based on positive psychology will make them highly eligible to the Greek market, which has already accepted and needs more positive psychology professionals."
Dr Agathi Lakioti, Clinical Psychologist, Psychotherapist and board member of the Hellenic Association of Positive Psychology
Professors
Newsletter