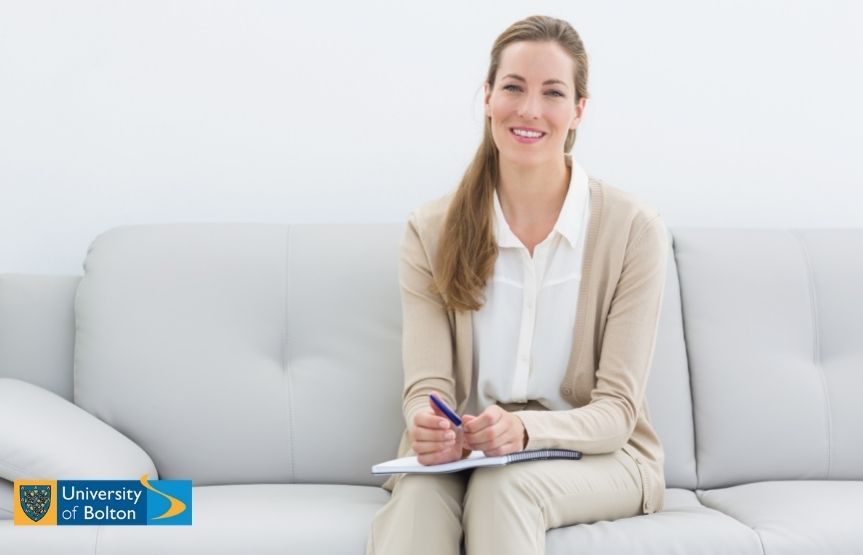 MSc Counselling and Positive Psychology
---
The master's programme MSc Counselling and Positive Psychology of the University of Bolton is an 18 month full-time programme which involves the comprehensive study of selected areas in counselling and positive psychology at an advanced level, and the acquisition of advanced professional practice and research skills. Topics covered include Positive Psychology theory, research and practice, therapeutic counselling and research methods for counselling and coaching. The programme includes120 hours of supervised clinical practice. Graduates will be able to apply the skills learnt on this MSc within health and social care settings, private practice, research and teaching, and management roles where working with people is the prime focus.

Graduates can become members of the British Association for Counselling and Psychotherapy (BACP), the International Positive Psychology Association and the Hellenic Association of Positive Psychology (upon individual application).
---
Λεπτομέρειες
Curriculum

Careers

Professors

Newsletter

Testimonial
Curriculum
The programme includes the following modules:
Therapeutic Counselling
Foundations of Positive Psychology
Positive Psychology in Practice
Supervised Counselling Practice 1
Qualitative Inquiry
Research Methods for Counselling and Coaching
Positive Psychology Dissertation
The distinctive feature of this master's programme is its flexibility, as classes take place only on Friday evenings and Saturdays, so that professionals can combine post-graduate studies with working. All courses are delivered in English.
To enter in the programme, students must have:
A good standard of English (IELTS 6.0 and above)
A good Bachelors degree in Psychology, or a relevant area, at 2.1 or above (those who have a 2.2 may be accepted after a successful interview)
Experience in a support capacity in one to one helping roles
Two satisfactory references (one academic and one from employer/ volunteering organisation)
Counselling qualifications will be an added advantage but not an essential requirement
Careers
This course is designed to enhance practice and facilitate employment and career progression in counselling and positive psychology within health and social care settings, private practice, research and teaching, and management roles where working with people is the prime focus.
"The MSc in Counselling and Positive Psychology offers a unique opportunity for students to gain competence from two disciplines and thus the opportunity to have a wide variety of job roles within practice, education and training, business, healthcare, charities and government agencies."
Marsha Koletsi, CPsychol, AFBPsS Psychologist, Cognitive Behavioural Psychotherapist and Accredited Supervisor of the British Psychological Society
 "The ability of graduates to provide counselling based on positive psychology will make them highly eligible to the Greek market, which has already accepted and needs more positive psychology professionals."
Dr Agathi Lakioti, Clinical Psychologist, Psychotherapist and board member of the Hellenic Association of Positive Psychology
Professors
Newsletter
Testimonial
University of Bolton link tutor testimonial
As the link tutor for the Msc Counselling and Positive Psychology we are proud of the ongoing partnership with New York College in Athens. The course in Athens closely echoes the course at the University of Bolton which delivers a range of modules relating to therapeutic approaches, counselling, supervised practice and positive psychology. During a visit in May, the partnership reviewed the delivery of the course and found it to be thoroughly enjoyed by both staff and students across both campus'. We are looking forward to continuing our work together and developing the course.
Charlotte Conn (MBACP, FHEA, Msc, PGCert, PGDip, Bsc) Link, Senior Lecturer in Psychology and Programme Lead for Msc Counselling and Positive Psychology, School of Psychology, University of Bolton.
---
Student Testimonial
"Having studied English at the University of Westminster and Classical and Modern Greek Studies at King's College London (University of London), completing CELTA at International House in London, postgraduate studies in ELT at Thames Valley University and at the CIOL (Chartered Institute of Linguists), I have worked in the ELT field for over 30 years as a tutor, teacher trainer, freelance translator, academic and career guidance counselor, oral examiner and coordinator for OFQUAL regulated awarding bodies.
In 2018 I co-established PACE (current B.E.S.A.) representing and running programs for CIOL, Coventry University, INTESOL and EDEN fifty-one. At the moment, we are representing and promoting VTCT UK Qualifications in Greece in the field of ESOL and other certifications. After acquiring a postgraduate Diploma in Career Counselling at the University of Piraeus with the late Prof Katsanevas, I developed a further interest in the field of counselling and psychology and decided to attend the MSc in Counselling and Positive Psychology programme at New York College from which I graduated in the summer of 2023.
My expectations for this Masters programme were both met and exceeded, as I encountered tutors that had a sound and exceptional academic background and the environment was supportive especially to mature students who believe in life-long learning. On my part, the Department of Psychology at New York College is highly recommended as an educational setting that will help any individual reach their highest potential.
My sincerest thanks and gratitude to all that assisted me in this mind-blowing journey!"
Maria Alafogianni
Graduate of University of Bolton at New York College in Athens
MSc Counselling and Positive Psychology
B.E.S.A CEO & Founder
VTCT UK Qualifications Representative