New York College Thessaloniki Campus, sponsors the Venue for the TESOL Macedonia-Thrace, Northern Greece Christmas Event.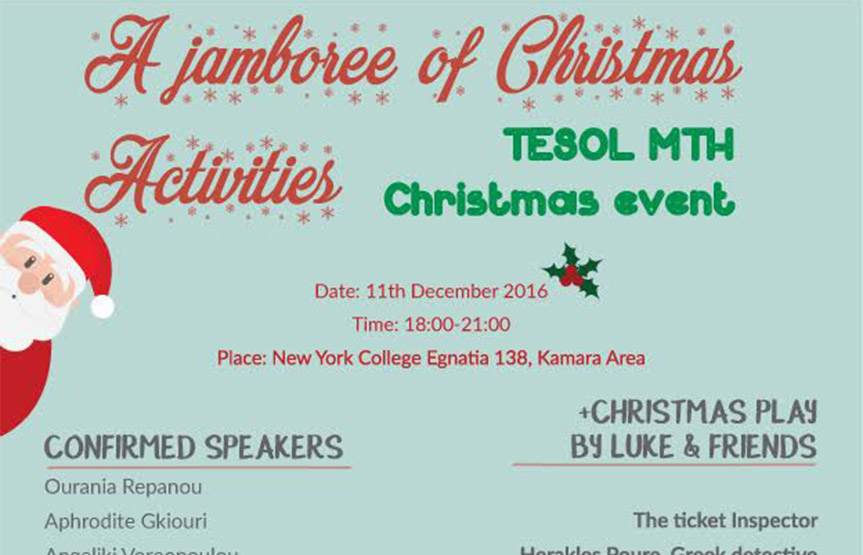 TESOL Macedonia-Thrace, Northern Greece Christmas Event took place on Sunday 11th December.
New York College Thessaloniki and the English Department are very proud to have hosted the Christmas event and always want to offer their support to TESOL Macedonia Thrace.
Ms Maria-Arxi Sachpazian, chairperson of TESOL MTH, opened the event with a very warm welcome and thanked New York College Thessaloniki for their hospitality and support.
Many friends and members of TESOL attended the event. A lively jamboree of Christmas activities were presented by 11 EFL teachers who delivered short lively workshops involving the audience and demonstrating how everyday simple activities such as cooking, arts and crafts, singing and acting can be used in the EFL classroom and facilitate language development in a most natural and meaningful way. Each presentation lasted about 10 minutes which gave a lively interactive atmosphere to the event. This Jamboree offered the opportunity to practitioners to share their ideas with their colleagues.
The event also hosted the non-profit child welfare organization "Child's Smile" (Hamogelo tou Paidiou) with their bazaar.
After the presentation-workshops Dr. Luke Prodromou and his theatre group ''Luke & Friends'' performed four short comedy plays and put everyone in a Christmas mood.
Finally, the event closed with a lottery draw where many of the attendees won beautiful gifts.