Professional Development Seminar at NYC: «Port of Thessaloniki: A new investment era»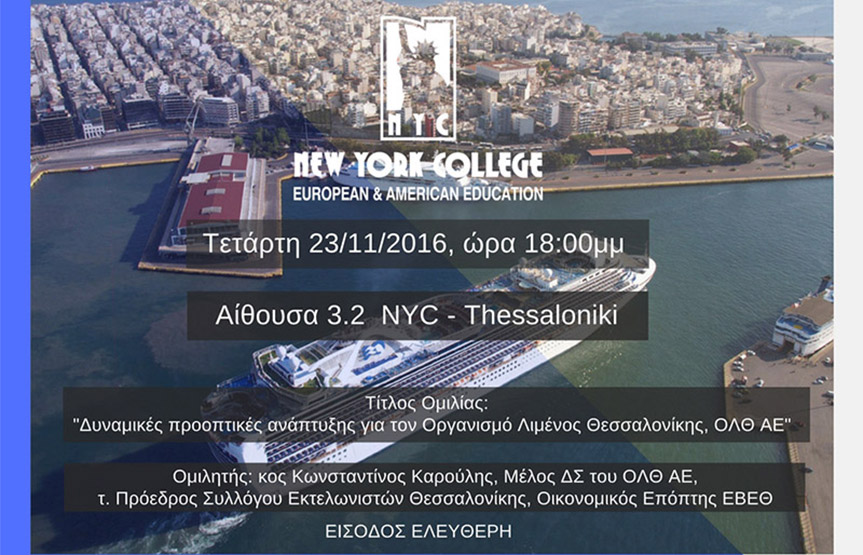 On Wednesday 23th of March 2016, New York College Thessaloniki organized a seminar that took place on its premises within the framework of its continuing effort to help students achieve a more effective approach and connection with the labor market.
The speaker was Mr. Konstantinos Karoulis, Member of the Board of Directors of the Port of Thessaloniki SA.
In his talk, Mr. Karoulis explained the radical changes in the world economy, and consequently in global transport systems, that have altered the operational, organizational and the ownership status of the port industry. Ports have become a capital intensive competitive industry, playing a crucial role in world trade, and by extension, in the world economy.
The Port of Thessaloniki especially, constitutes the most important port in Macedonia and one of the most important ports in Southeast Europe, for 2300 years. Due to its advantageous geographical location and its excellent road links and train connections, it is the largest transit-trade port in the country and it services the needs of approximately 15 million inhabitants of its international mainland.
It has been characterized as a Port of National Interest in the Country's Coast-guard System and one of the five Greek ports, which belongs to the Core Network of Trans-European Transport Networks. It is located at a distance of 1km from the Passenger Railway Station and 16km from the city's International Airport.
A very interesting dialogue took place after the seminar between students and professionals from the labor market.