Seminar on "How To Start A Classy, Viral Professional Blog!" by New York College Thessaloniki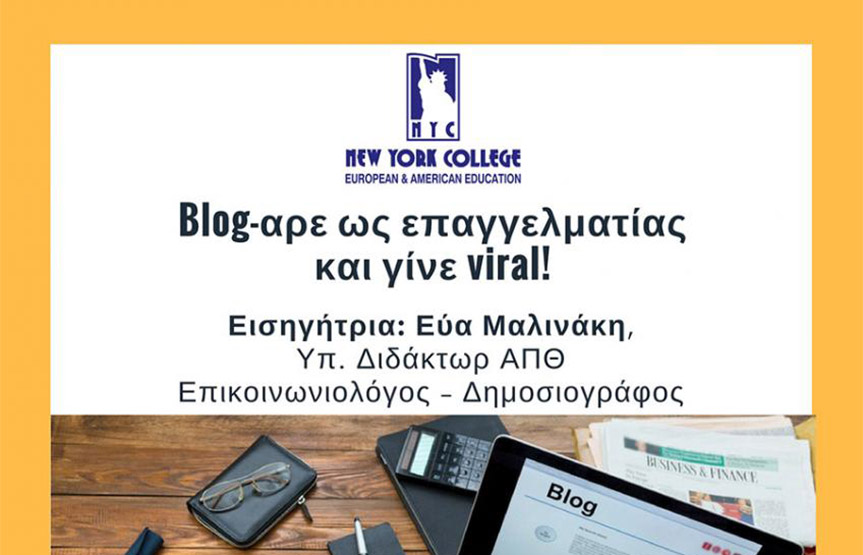 On Wednesday 22nd of November 2017, New York College - Thessaloniki Campus organized a seminar entitled "How To Start A Classy, Viral Professional Blog!" which took place at its premises in Thessaloniki.
The event's main speaker was Mrs. Eva Malinaki, PhD candidate, Marketing specialist – Journalist.
As Mrs. Malinaki explained, Blogging is not only a medium to showcase your voice, it's also a viable career option. Many youngsters are jumping into the blogging world to earn part-time passive income. Some are even earning a full-time professional living. But starting a professional blog requires lots of things, and if you are planning to make blogging your career, you (at least) need to have a blog business plan and a professional appearance. There are many blogging platforms out there. Most newbies start with BlogSpot or WordPress.com, as these require zero investment. However, the professional approach would be getting a self-hosted blog. There are many platforms out there, but if you wish to make it big, you need to get the best fit for your project.
A very interesting and long dialogue took place after the seminar since the interest in the subject was high.