We are proud of our undergraduate students! They can make a difference!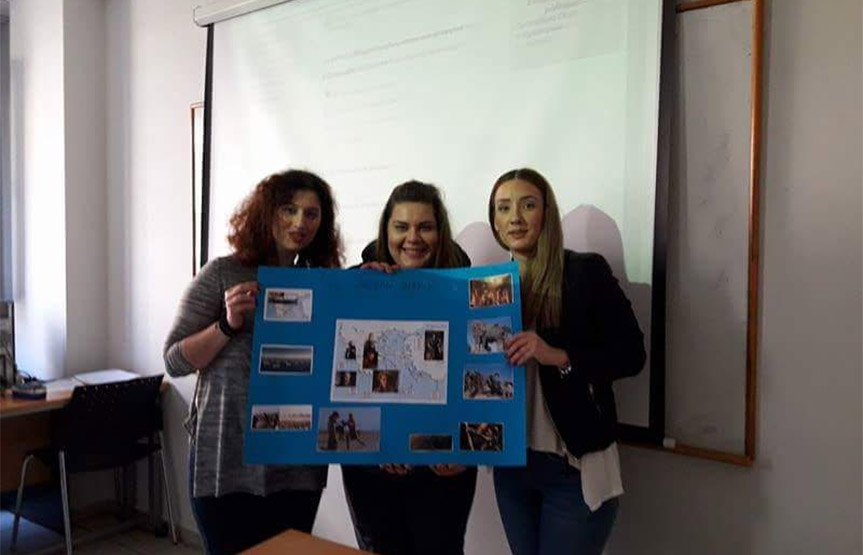 The students of the BA (Hons) English and English Language Teaching of the University of Greenwich offered at New York College stand out at their teaching practice sessions.
The undergraduate students of New York College, Thessaloniki Campus complete their teaching practice as part of their Course "Language Teaching Design and Practice" at private Modern Language Tuition Centers. Τhey design and deliver lessons in real classes. This is a hands on experience which they love as it gives them valuable practical knowledge and the opportunity to apply theory to practice.
Illiana Filippa, Anna Karypi, and Stefania Theodoraki with their enthusiasm, love for teaching, and the knowledge they gained from their studies experimented and designed a Task Based and CLIL lesson for a class of 8 year-old pupils using a theme from their school history syllabus; the Trojan War. These three undergraduates designed a video documentary with image, narration, and music, and the young pupils produced a poster, role played, and played trivial pursuit.
As these three young enthusiastic undergraduates say:
"Who says that the classroom is a restrictive environment? This is how language is acquired through real life activities, naturally, and in content. This can be done in a classroom! Such approaches help also to build the learners' confidence as the language they are learning is used in a meaningful way as a means to learn about relevant to their school subjects. This is achieved by using their knowledge of the world, and by playing and by being creative without worrying about verbs and grammar rules. In doing so, they gain a sense of satisfaction and achievement!"