Workshop on "Dredes: Protagonists of the 1821 Revolution" was held with great success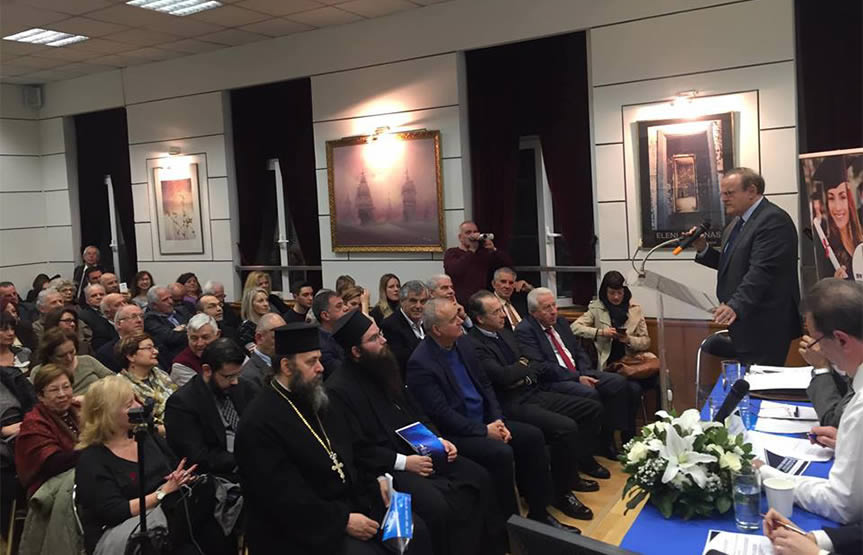 The Federation of Associations of Trifilia with the support of the University of the Peloponnese, Panteion University and the Educational Group of New York College, held a study day on: "Dredes: The Protagonists of the 1821 Revolution", on Wednesday, March 13th, 2019 at 18:30, at the headquarters of New York College, situated in Amalias 38 Str, at Syntagma Square.
The event, moderated by journalist Kostas Mardas, was greeted by the President of the Federation of Associations of Trifilia, Mr. Pangaiotis Loutos.
Mr. Ilias Foutsis, President and founder of the Educational Group New York College, addressed a welcoming speech to the participants.
Greetings were also addressed by Archimandrite, Mr. Seraphim, the spokesman of the Trifilia and Olympia Metropolis, Mr. Chrisostomou, former MP, Mrs. Panagiota Kozompoli, former Deputy Minister of National Defense, Mr. Giannis Lambropoulos, the Mayor of Ochalia, Mr. Aristeidis Stathopoulos, and former Ambassador to Washington, Mr. Christos Panagopoulos.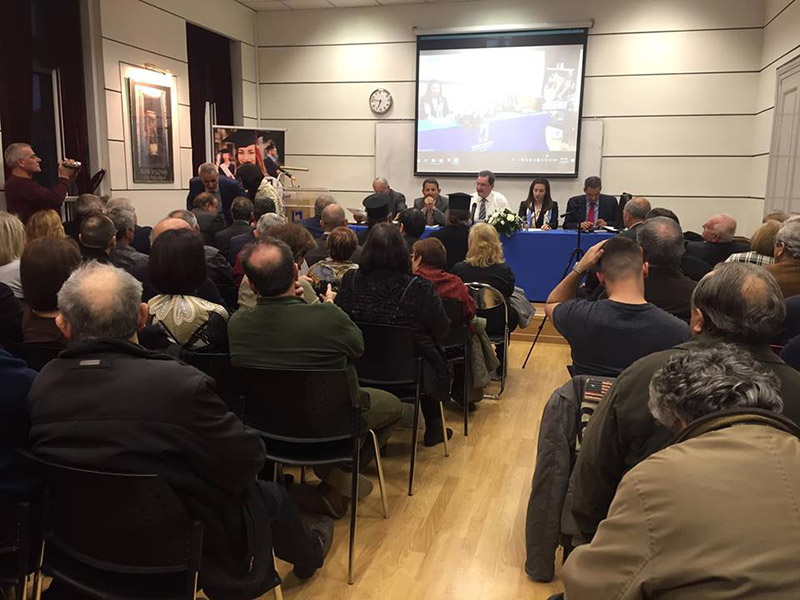 Remarkable speakers took the lead. Mr. Stathis Paraskevopoulos, Honorary Professor of the Pedagogical Institute and Honorary Chairman of the Historical Writers Association, who talked about the Dredes' Trifilia Revolution. Mr. Angelos Syrigos, Associate Professor of International Law and Comparative Politics from Panteion University followed. Professor Syrigos underlined the historical presence of the Dredes in Messinia and their role in the 1821 revolution. Mr Giannakis Gritzalis, Sociologists - Former Professor of the Technological Institute of Athens, descendant of the great fighter Giannis Gritzalis, took the floor. He talked about the great services offered by the Dredes to their homeland in 1821. Lastly, Dr. Maria Kouri, lecturer of Cultural Management at the University of the Peloponnese, talked about the modern forms of managing the memory of the Revolution. The Kalamata Case of 1821: Street of Freedom.
Deputy Mayor of Ochalia, Mr. Athanasios N. Kollias, also attended the event. Archimadrite Mr Gavriil, representing the Archbishop of Athens and All Greece Mr. Ieronymos, former MP of Messinia, Mrs Nantia Giannakopoulou, former MP of Ilia, Mr. Michalis Katrinis, Enterpreneur Mr. Kostas Arnokouros were among the attendees. Furthermore, Mr. Leonidas Papakostas, who through his songs  has praised the Dredes, along with representatives of associations, municipal and regional candidates and a large crowd of people, were present.   
Greetings from the Former Prime Minister, Mr. Antonis Samaras and Mr. Miltos Chrysomalis, MP candidate of Messinia, were forwarded.
 A first-time event under this subject in the history, was a proposal of our compatriot from Ripesi (Kefalovrysi Messinias), former Prefect of Messinia and one of the founding members of the Federation of Association of Trifilia, Mr. Stavros Stathopoulos, whose contribution has been decisive for its implementation.