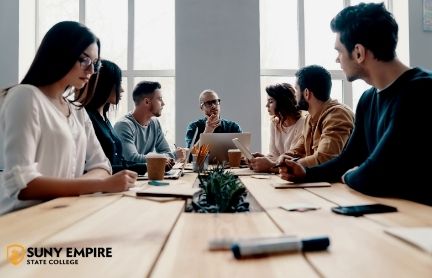 Bachelor in Communications
---
Knowledge Outcomes:
Upon successful completion of this program students will be able to:
Show basic understanding of subject matter related to communications, mass media, public relations, advertising, corporations, law and ethics
Apply the subject matter critically and analytically in real situations
Comprehend the political, social, legal, regulatory, environmental and technological impacts on corporations, governmental affairs and organizations
Demonstrate a working knowledge of the European and American environment of corporations, business, governmental affairs and multi-cultural issues
Have a foundation in science and liberal studies as delivered through the General Education program.
Integrate the knowledge acquired in the program to analyze a business internal and external relations to identify its strengths and weaknesses and  determine what changes can be made in the field of communication strategy for improvement
Develop a communications and/or public relations plan
Pursue postgraduate studies or professional qualifications in the field of Communications and Public Relations
Skills Outcomes:
As a result of completing this program, students should have acquired the following skills and values:
excellent written and oral communication skills
excellent use of communication methods, including public relations and advertising techniques
demonstrate analytical and critical-thinking skills necessary to make sound business and personal decisions
speech communication skills
effective use of communication tools
effective self-management in terms of time, planning and behaviour, motivation, self-starting, individual initiative and enterprise
self-awareness, openness and sensitivity to diversity in terms of people, cultures, business, public affairs and government.
---
Λεπτομέρειες
Careers
For those ones of you who plan to go directly into the workforce, this degree provides you with the highly-valued communications knowledge and skills necessary to be successful in a variety of entry-level positions in the field of communications, including corporations, mass media, public affairs, and non-profit organizations. You can also start your own small business.

As soon as you get a position in a department of the organization, you will be able to acquire practical knowledge in a specific area, such as Marketing Communications, Sales, Public Relations, Advertising which topping it up with a postgraduate degree in this field will secure a decently-paid job with good opportunities for development in the Greek and the wider Balkan region.