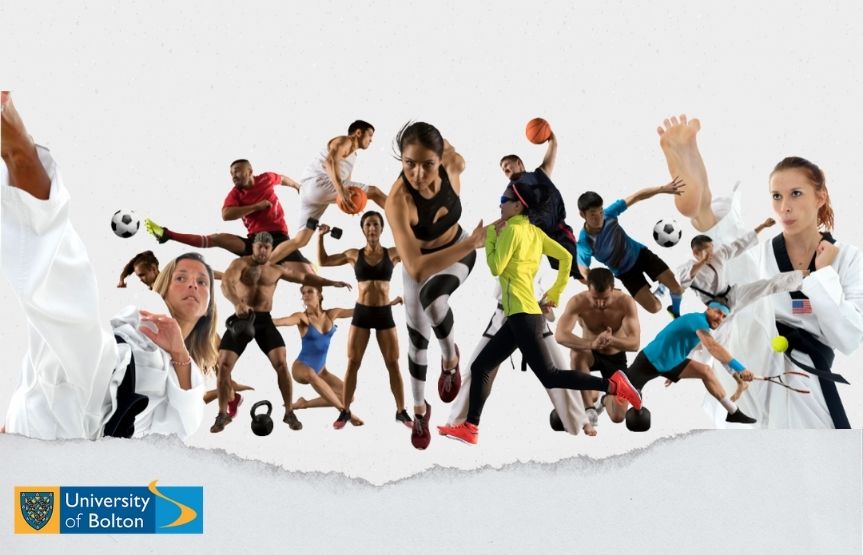 Bachelor of Science (BSc Hons) in Sports Science and Coaching
---
The degree programme for the Bachelor of Science (BSc Hons), that is awarded by the UNIVERSITY OF BOLTON with specialization in Sports Science and Coaching, is offered entirely at New York College in Greece and provides the students with a solid knowledge background in the Science of Sports according to international academic standards, i.e. the graduates of the programme are adequately qualified to pursue a career in the field of Coaching.
In particular, the students of the programme acquire basic knowledge and develop necessary skills in all individual and team sports with the guarantee and credibility of the British academic community: The UNIVERSITY OF BOLTON—a renowned state university of Britain—has created this innovative programme exclusively for the students of New York College in Greece, the country where the concepts of Fair Play and Noble Rivalry ("εὖ ἀγωνίζεσθαι") of the Olympic Ideal were born. The programme combines theoretical training and on-field application in Physical Education and Sports Science, with courses taking place at NYC Athens Campus, a world-class downtown college campus, in the same neighborhood where knowledge and civilization were born. As to the applied part of the programme, New York College collaborates with the historical National Gymnastics Association (Εθνικός Γυμναστικός Σύλλογος, or ΕΓΣ), founded in late 19th century and located at walking distance (just 300 meters away) from the main entrance of New York College—where courses with supervised training, experiential classes, and competitive sports are conducted.
A strong asset of this academic programme is the expertise of professors and instructors, whose distinctions include research in sports, academic publications, national and international athletic awards, professional accomplishments and multi-year academic experience in Greece and abroad (USA, UK).
Recognition & continuity of studies
The programme is recognised on the basis of the procedures provided for by the Autonomous Section for the Implementation of European Legislation (ATEEN) of the Ministry of Education and in accordance with the legislation in force.
With the four-year degree (240 ECTS) and its recognition by ATEEN, graduates can work as Physical Education teachers in schools and continue at postgraduate and/or doctoral level.

«It is a shame (misfortune) for a man to grow old without ever experiencing the beauty (kallos) and strength (sthenos) that his body is capable of acquiring throughout his life».
Socrates (Xenophon Memoirs 3.12.8)
---
Λεπτομέρειες
Curriculum

Career

Quick Info

Magazine

Professors
Curriculum
Year 1
Foundations of Sports Coaching

Foundations of Anatomy and Physiology

Historical and Social Aspects of Sports

Foundations of Biomechanics in Sport

English - Stage C for IFP and Pre-Masters

English - Stage D for IFP and Pre-Masters

Kalisthenics (Gymnastics)

Basketball

Football

Taekwondo
Year 2
Academic Skills and Research Methods

Introduction to Sports Physiology

Introduction to Sports Psychology

Sports Law - Organization and Management (Content of Sports)

Sports Coaching I

Introduction to Sports Nutrition

Track and Field Ι

Track and Field ΙΙ

Swimming I

Swimming II
Year 3
Sports Biomechanics

Sports Coaching II

Research Methods in Sports

Sports Physiology and Ergometry

Work-based Learning

Personal Training I

Personal Training II

Pangration

Weight Lifting

Sports Nutrition
Year 4
Project I, II

Advanced Sports Coaching and Data Analysis

Sports for Children and Young People

Biomechanics of Strength and Conditioning in Training

Advanced Physical Activity and Health
Career
Bachelor of Science (BSc Hons) in Sports Science and Coaching from the British State University of Bolton gives its graduates a competitive edge in the job market in the field of sports. It is designed to be a university-level programme for those who aspire to work in the field of coaching and sports education in companies, gyms, teams, sports clubs, associations, and organizations.
Quick Info
Duration: Four years
Language: Greek - English
Semesters: Two per year
Exam period: January, May
Prerequisites: High School Diploma, English Language Level of IELTS 5.0 or equivalent
Professors