Top performance of UNIVERSITY OF BOLTON in the ranking of British Universities --according to Guardian for the year 2021-- which is affiliated with NEW YORK COLLEGE for offering academic programs (Bachelor, Master, PhD) on site in Greece.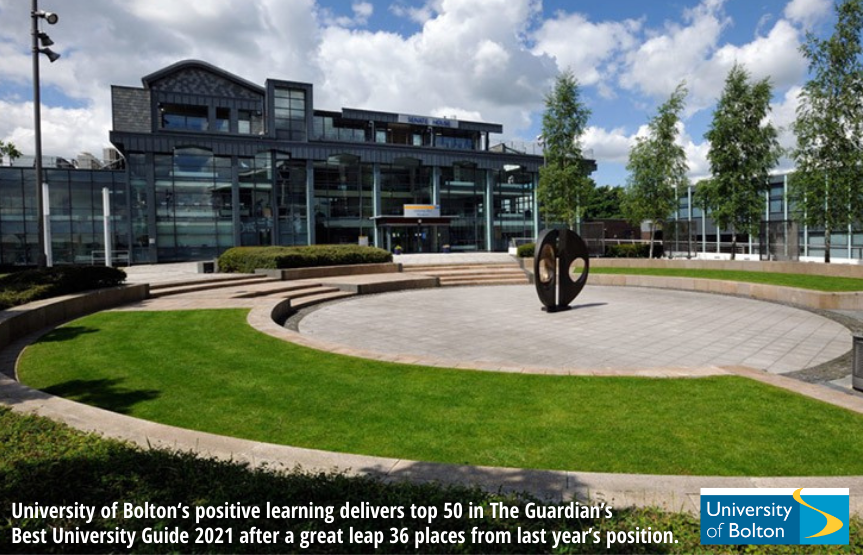 For this academic year (2020-2021), Guardian has formally announced a breathtaking upgrade of UNIVERSITY OF BOLTON by thirty-six (36) positions, from the 86th position (2019) to the 50th position (2020) in the ranking list of British Universities:
https://www.theguardian.com/education/ng-interactive/2020/sep/05/the-best-uk-universities-2021-league-table
This astounding academic accomplishment of UNIVERSITY OF BOLTON is the outcome of the systematic implementation of its strategy, whereby the University gives special emphasis to (1) quality of teaching, (2) advancement of student experience to a world-class level, and (3) development of academic curricula that maximize the employability of the students. 
As a renowned state university of Britain, UNIVERSITY OF BOLTON awards Bachelor, Master, MBA and PhD degrees to graduates of NEW YORK COLLEGE who complete entirely on site, in Athens or Thessaloniki, the respective academic programs of UNIVERSITY OF BOLTON.
Below: The original Press Release of UNIVERSITY OF BOLTON, sent to British and international news media, contains specific information and statistical details of this great upgrade, as well as pertinent clarifications by George E. Holmes, DL, President and Vice Chancellor of UNIVERSITY OF BOLTON.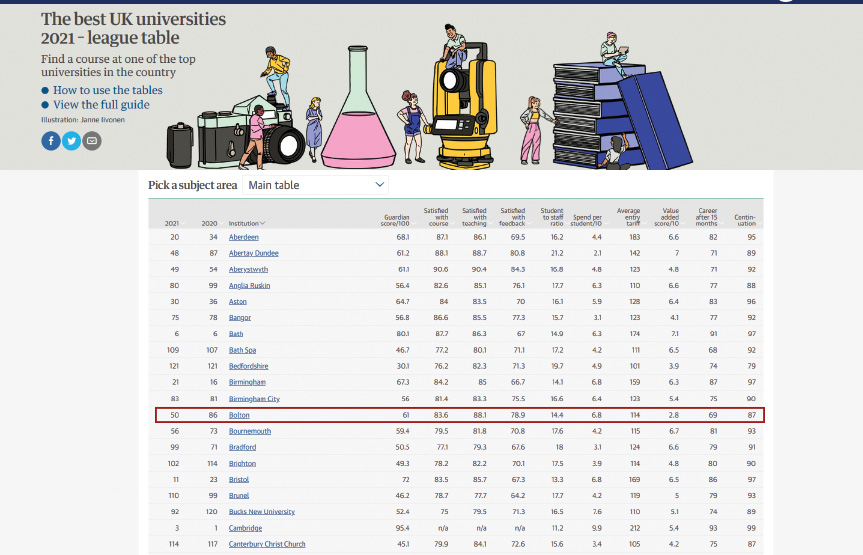 ---
'Press release from the University of Bolton'
University of Bolton's positive learning delivers top 50 in The Guardian's Best University Guide 2021
    The University of Bolton has been named in the Top 50 best UK universities in the 2021 Guardian newspaper league tables.
    Professor George E Holmes DL, President and Vice Chancellor, described the news that the University had leaped 36 places from last year's position of 86 as "fantastic".
    The Guardian league tables rank universities through eight different scores which form a total out of 100, including what students say about their teaching, feedback and the course itself in the annual National Student Survey (NSS).
    The University of Bolton scored 83.6 per cent for students' overall satisfaction with their course; 88.1 per cent for the quality of teaching on the course as rated by first year students and received a 78.9 per cent rating for the quality of feedback and assessment by final-year students.
    The number of students per member of teaching staff was 14.4 and the University scored 6.8 out of 10 in terms of "spend per student".
    It scored 69 per cent for the number of graduates who find graduate-level jobs, or are in further study at professional or HE level within 15 months of graduation and the percentage of students who continue to second year is 87 per cent.
    Prof Holmes said: "I am delighted by this news. At Bolton our priority is making the teaching and student experience the best it can be for our students.
     This has already been recognised by very high student satisfaction scores in the last few years. In fact, this year we have been named best in the whole of the North West of England for student satisfaction and joint fourth in the UK.
     To make such a huge jump in the Guardian league tables is enormously satisfying as it comes in the middle of probably the most challenging year the University of Bolton and the HE sector as a whole has faced in its history."
      The league tables also look at class sizes and student-to-staff ratio, how much universities spend on teaching per student, as well as students' A-level grades, whether their academic performance improves at university (the value-added score) and how likely they will be to continue with their course.
      This year the tables also include new data on how many students get graduate jobs or go on to further study 15 months after leaving university.
       The Guardian newspaper says on its website: "Unlike other league tables, the Guardian rankings are designed with students in mind . . . we take into account what matters most to young people: how well will you be taught? Do current students rate their course highly?"
      It adds: "We think the universities at the top of the table offer the best education and experience for students."
      It follows news earlier this year that the University of Bolton was named best in the North West of England for Student Satisfaction and joint fourth in the UK by the independent Complete University Guide 2021.
      Prof Holmes said: "It is testament to the hard work and dedication of everyone at this institution. I am extremely proud. We will continue even more diligently to focus on providing the best quality teaching and experience for the people who matter most – our students. Student success is at the heart of everything we do at the University of Bolton."
The Guardian Best UK Universities League Tables 2021 can be found here. 
---
For more information:
NEW YORK COLLEGE
Athens Tel.: 2103225961
Thessaloniki Tel.: 2310887989
e-mail: info@nyc.gr, www.nyc.gr