Prof. ELANA SHOHAMY meets the English Language Teaching students at New York College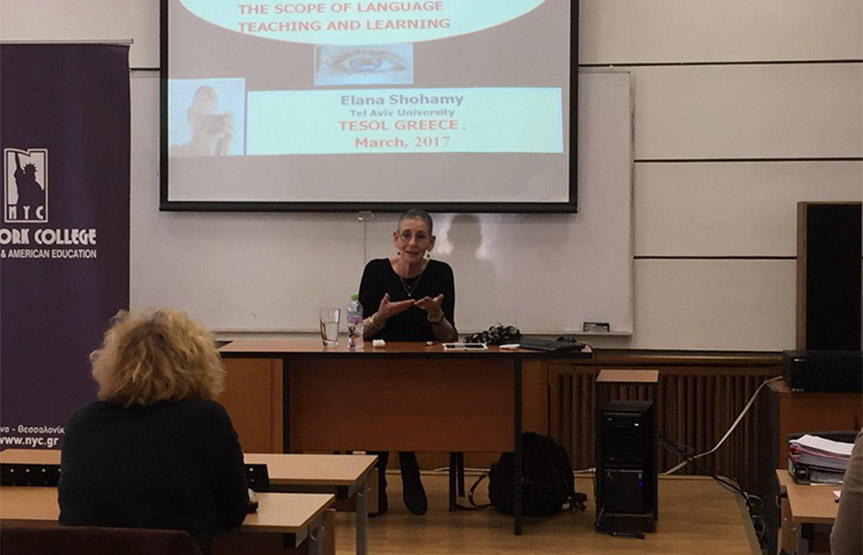 The Department of English Language and ELT of NEW YORK COLLEGE, and the Department's Guest Lecture Series continues its fine tradition of inviting distinguished researchers, teacher educators and practitioners, such as Prof. Stephen Krashen, Jeremy Harmer, Prof. Alessandro Benati, Dr.  Parvaneh Tavankoli, and others,  by sponsoring the visit of an influential scholar, researcher, policymaker and educator: Professor Elana Shohamy from Tel Aviv University! The NYC students had the unique opportunity to meet and discuss with Prof. Shohamy on her groundbreaking research on Linguistic Landscape, a medium for interpreting societies and expanding the scope of language learning. Incorporating the space into the classroom allows students to critically read the visible 'texts' and reach deeper and more complex meanings of language learning which are embedded in histories, cultural relations, politics and humanistic inter-relations. 
At NYC we empower our student teachers to think, learn, develop and act creatively and ethically and we provide them  with learning opportunities that go beyond the curriculum.
For more lectures/workshops stay connected with New York College fb page or web, www.nyc.gr