SUNY Empire State College Announces New Study Abroad Program in Athens, Greece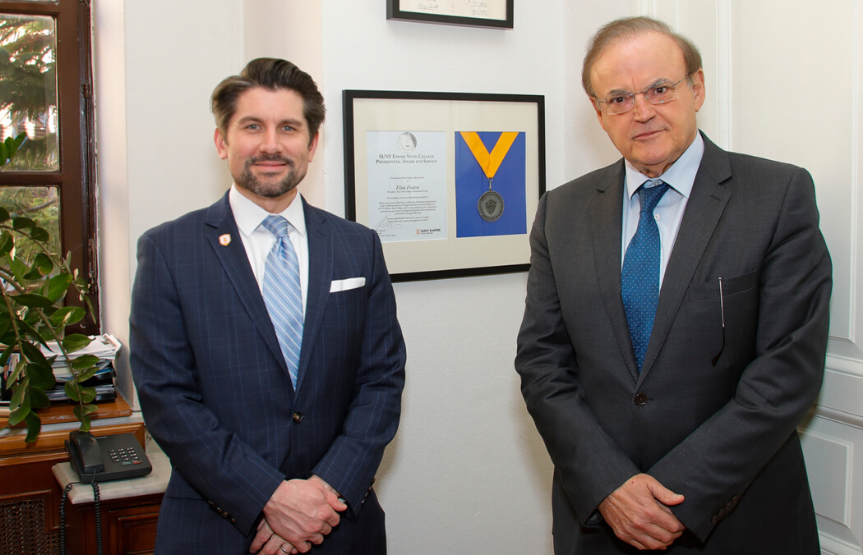 (ATHENS, GREECE – Feb. 18, 2020) SUNY Empire State College President Jim Malatras and Elias Foutsis, president of New York College in Athens, Greece, today signed a new partnership agreement creating a study abroad program in Western Civilization built around working SUNY Empire students.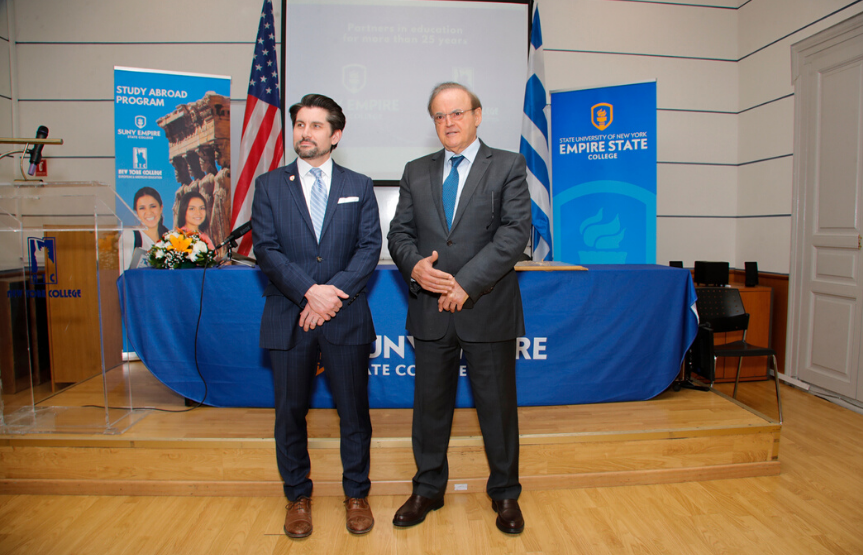 Beginning in August through this inaugural exchange, SUNY Empire students will have the opportunity to explore Athens through an intensive two-week field study. The rich curriculum will focus on western civilization, and include cultural excursions and immersions into Greek history. The program, "Introduction to Ancient Greek Philosophy and the Development of Western Civilization," provides a deep overview of ancient Greek philosophy. Students will study the works of Socrates, Plato, and Aristotle, the theories and practices of the classical and Hellenistic periods, and the influence of ancient philosophy in modern times. The course will examine the impact ancient philosophers had on the foundations of modern and contemporary thought, law, religion, and their influence on the development of modern economies, societies, and cultures throughout the world.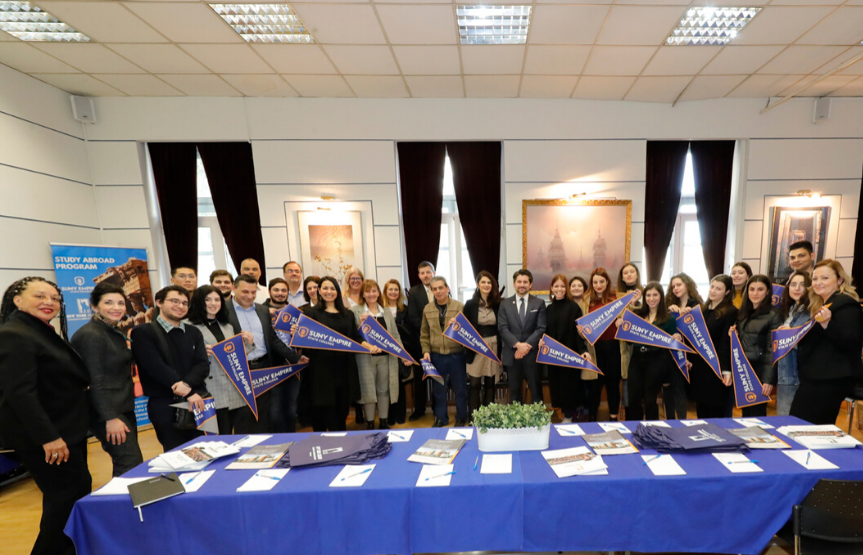 Guided field tours of historical monuments, such as the Acropolis, the Athenian Agora, and Delphi, will be led by archeologists. New York College will provide students with housing in the heart of Athens. Its campus is within walking distance from Plaka, the House of Parliament, the National Library, the Sports Venue of the National Gymnastic Association, and the National Garden. New York College in Athens is one of SUNY Empire's seven host campuses through its Center for International Education.
Today's agreement will also establish an exchange program by bringing SUNY Empire students to Athens, and students in Athens to various SUNY Empire campuses around New York state. The program will contribute to cross-cultural learning and foster international relations.
"It is critical to offer important academic experiences to fit the schedules of busy students—especially working students—and this exciting new SUNY Empire State College abroad program in Athens, Greece does just that," said SUNY Empire State College President Jim Malatras. "Through our new study abroad and exchange programs, American and Greek students will have the opportunity to better understand how the other lives beyond textbooks by experiencing it first-hand. Thanks to President Elias Foutsis for sharing the SUNY Empire vision of global connectivity and for making this happen."
"Our role in preparing graduates for the rigors of the world in 2020 and beyond cannot be understated," said SUNY Empire State College Executive Director of International Education Francesca Cichello. "As we empower graduates with the tools they need to be successful, responsible global citizens, we are upholding SUNY Empire's long tradition of being at the nexus of innovative education for all."
President Malatras also presented President Foutsis with the SUNY Empire State College Presidential Award for Service, in recognition of the considerable dedication President Foutsis has shown to furthering the mission of empowering students and strengthening the SUNY Empire global community. President Foutsis presented President Malatras with a laurel wreath, to commemorate the long-term partnership between the two.
Click here to see pictures from today's event.
SUNY Empire first established a presence at Greece's New York College in 1992 in response to the growing demand of European students seeking college degrees from American colleges and universities. Nearly three decades later, SUNY Empire today offers its international students the opportunity to study business administration, communications, computer science, finance, information systems, international business, management, marketing, and psychology—provided on site at Greece's New York College in Athens.  
In addition to its more than 30 locations across New York state and its two campuses in Athens and Thessaloniki, Greece, SUNY Empire's Center for International Education also has partners in Albania, the Czech Republic, the Dominican Republic, and Lebanon.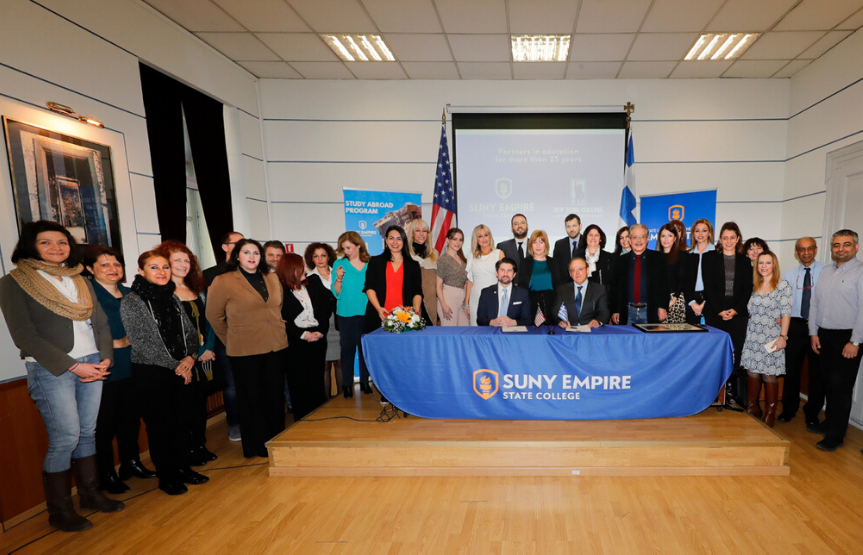 About SUNY Empire State College 
SUNY Empire State College educates students at any stage of life with a personalized learning experience delivered online, in person, or a blend of both. Since 1971, SUNY Empire has empowered students to earn an accredited degree around the demands of a busy lifestyle to advance their personal and professional goals. With world-class faculty, more than 1,300 dedicated mentors to help students tailor their degree programs, and cutting-edge distance learning technology, SUNY Empire delivers a trusted and flexible online college experience grounded in more than 30 New York state locations and seven international sites where students can learn and collaborate in person. Our nearly 50 years as a leader in awarding credit for prior learning and life experience helps students earn a degree faster and at lower cost. To learn more, visit www.esc.edu and follow @SUNYEmpire.