Short history lessons: Epidemics in antiquity, the plague of Athens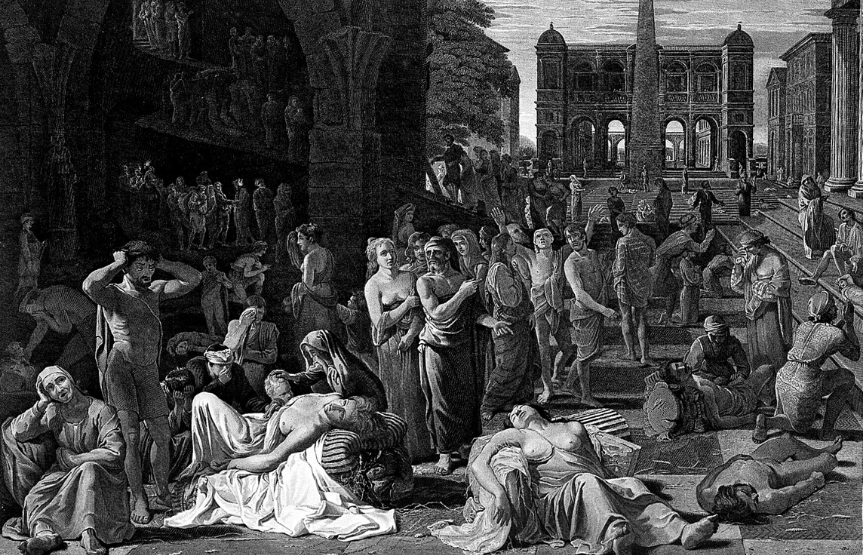 The Peloponnesian War (431-404 BC), where Athens was rivaled by Sparta, with each city having its allies, was a landmark in world history. It was such a significant milestone that even this war Thucydides, the historian who wrote the story of the war, considered  it as a great lesson for future generations.
During the second year of the war, Athens, where Pericles's personality was dominant, occurred  a catastrophic pandemic outbreak, probably by a boat that reached the port of Piraeus. The disease was impossible to be cured by the doctors of the time and within a few months claimed the lives of about 25-30% of the inhabitants of Athens, including Pericles himself and his two sons.
Information on the symptomatology of the disease is obtained from Thucydides, who himself was ill but managed to survive. Thucydides describes in great detail the consequences of the epidemic at social and political level, where all social cohesion has virtually disappeared. Experts speculate that it may be fever plague or typhus, even Ebola.
The one who managed to cure the disease was the great physician Hippocrates, who observed that the outbreaks of the disease were less in areas with high temperatures. This was the reason he advised the Athenians to light fires, which may have contributed to purifying the polluted air.
The SARS COV-2 is obviously not of  the same danger, but it  does not mean that we should not be aware. On the contrary, it is essential to know how people have acted in other historical periods and to maintain social cohesion by following the instructions of experts.
For a scientific bibliography on the plague of Athens, see: