The NYC Libraries in Athens and Thessaloniki hold a growing number of resources directly related to all NYC educational programs. Students have also access to the on-line libraries of the partner Universities, through accounts provided upon registration.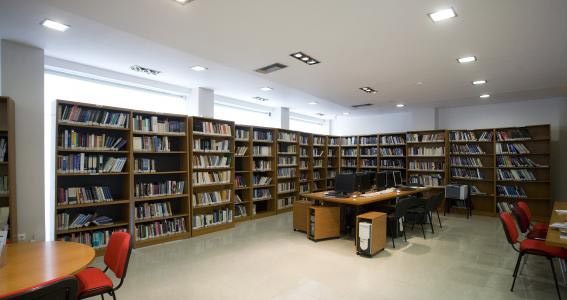 Both NYC Libraries (Athens, Thessaloniki) are situated on campus, offering students daily access. The collection includes print materials in all study fields, and electronic resources to the e-Library of the partner Universities, as well as, to the Emerald Database. The collection is arranged by subject and is open for browsing and borrowing. There are study spaces for both individual or group studying, as well as, PCs with access to Internet, printing, scanning and phtocopying facilities. An access catalogue allows each student to search for books and check what can be borrowed and what is on reserve.
There are a variety of loan periods ensuring access to key books for all students and faculty. Term textbooks are kept in the Reserve Collection. Our Librarians and the assistants will not only tell you where to find a book, but they can also advise you on the best book or journal for your subject matter, talk you through the best way of searching effectively, provide you with a list of other libraries in your city, and help you borrow books from other libraries. Searching for a book is not the only time you might need support. If you want audiovisual equipment, surf the net, a video projector to rehearse your presentation, or a study room to get to grips with a group presentation, the Librarian and staff will be available for advice and guidance.
Contact Information
Thessaloniki: 2310-889879 & by email at:
librarynycth@nyc.gr
Athens: 210-4838071 & by email at:
librarynycath@nyc.gr