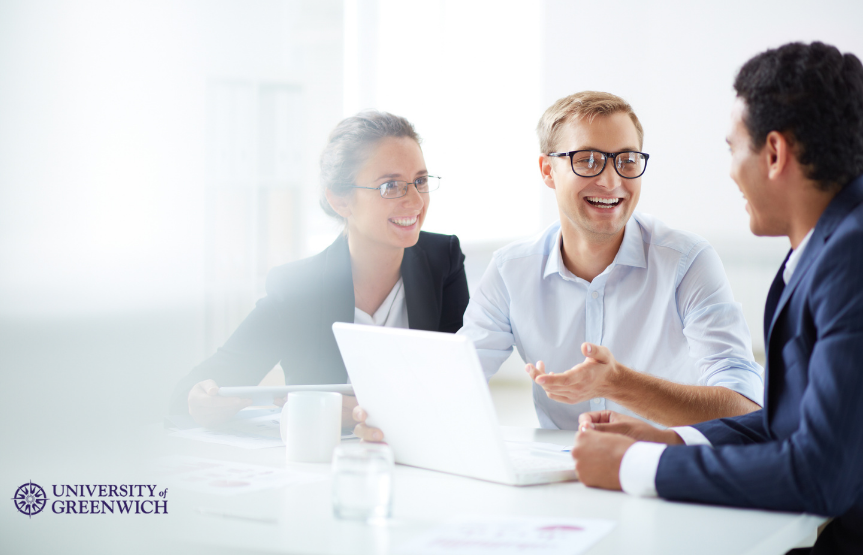 Bachelor in Business Studies
---
The bachelor in Business Studies, which is offered in collaboration with the University of Greenwich, is the core of a portfolio of last generation programmes that was updated through the University's recent quinqenial review, with the aim of structuring Business Studies around contemporary business processes, rather than traditional thematic areas largely devised in the academic world alone. The student will be dealing with business processes, which encapsulate the full range of managerial activities and will gain a complete view and a holistic perspective of Business Development with regard to in-depth understanding of Value Chain Management concepts, Project Management, International Business, and all knowledge necessary to excel in the highly competitive and ever-expanding business world.
---
Λεπτομέρειες
Magazine

Curriculum

Careers

Professors
Magazine
Curriculum
Year 1
Personal and Professional Development
Introduction to Business Processes
Business Planning and Development
Introduction to Economics for Business
Discover Project Management

Year 2
Personal and Professional Development 2
Creativity and Decision Making in Business
Operations Management
Management and Information Systems
Project Planning and Management

Year 3
Personal and Professional Development 3
Managing Strategy
Small Business Development
International Business Management
Careers
Managerial positions, in all types of organizations, call for the skills obtained in the programme. Graduates will enjoy a wide variety of opportunities, available in a range of areas depending on specialisation taken, e.g. personnel and human resource management, operations and logistics, advertising and marketing, finance and more.
Professors
Programme Leader: Wenxian Sun, PhD: Dr Wenxian Sun is the Programme Leader of the BA Business Studies programme suite at the Department of Systems Management & Strategy. She received her PhD in Management, for which she conducted an ethnographic study to develop a communication model which aims to improve the diffusion of business and management practice in MNEs. In light of social constructionism, she created a 'SISI' methodology (Survey-Immerse- Share-Integrate) to deal with research challenges and problems. This research was awarded the Best Paper Prize at the UK System Society (UKSS) annual conference. Dr. Sun has over five years of industry experience in the UK and, in addition, she organised various types of projects in China including projects for Chinese government, public sectors and the Architecture & Construction Committee for which she received an award from the Chinese government. Dr Sun has a multidisciplinary research interest to cover areas such as system methodologies, complex and sustainable project management.
Local Programme Leader: Kelley Galloway: Kelley has been involved in the University of Greenwich programme since 2010 and has been teaching at New York College since 1994. She holds a Bachelor degree in Social Science from Richmond: the American International University in London and a Masters degree in Sociology from the London School of Economics. For the University of Greenwich Bachelor in Business programme she teaches the Personal & Professional Development I (PPD1) which focuses on how to do research, use referencing and make presentations; PPD2 which focuses on CV writing and interview skills, teamwork and business plans; PPD3 which is the Consultancy Project and Thematic Independent Study which focuses on how to do a major piece of research writing. Her experience of both American and British educational systems as well as her sociological training enable her to advise and assist students throughout their studies.
Local Tutors
Alexander Coutroubis, PhDc – Alexander is the Director of Maritime Studies at NYC. He is also a Member of the Athens Bar Association and has his own Private Practice specializing in Corporate/Commercial Law. He holds a LLB (Hons) from the University of Greenwich and a LLM from the London School of Economics. Besides teaching the Context & Regulatory Framework course in Year 1, he is also the tutor for the Year 2 Shipping course – Shipping Policies & Regulations, Marine Law & Marine Insurance. He has particular expertise and interest in the Shipping Industry and also teaching in the Masters in Marine Engineering programme. His innovative teaching techniques have helped students learn more than just the course material.
Dr. Iakovos Arapoglou – Akis specializes in Business Statistics and International Economics. He holds a PhD from The City University of New York (Graduate School) as well as a Masters of Arts in International Relations. He has been at NYC since 1995 and is a much appreciated faculty member. Students enjoy his approach to teaching that includes current examples, especially those related to the economic crisis in Greece, linked with economic theory and presented in an understandable manner. His course 'Creativity & Decision-Making in Business' combines all of his areas of expertise.
George Georgousopoulos – George completed his studies in the USA and holds a BS in Engineering from New York Institute of Technology (NYIT), an MBA from Adelphi University, and a MSc from University of Louisville. He is a Candidate for Doctorate in Business Administration from International School of Management (ISM) Paris, France and his Dissertation examines issues in Operations and Value Chain Management. He also attended Business seminars as a Visiting Scholar in Paris, Sanghai, and Tokyo. George has been teaching at SUNY Empire State College, Greece since 2004, the University of Greenwich since 2012 as well as graduate level (Greenwich, IUKB, ESG). He was also a visiting Professor in the University of Bretagne, Brest in France teaching International Operations and Supply Chain Management (Graduate Level). George's lecturing methods and the ability to support students to reach their full potential makes him a valuable member of the NYC family.
Penny Vlagos – Penny has been teaching at NYC since 1999 specializing in Human Resource Management and Organizational Behaviour. Through her professional experience as an HR Manager, she is able to pass on to students actual examples from working in both the US and Greece. With a Bachelor degree in International Business and an MBA from Loyola University, she has a wealth of knowledge related to business subjects. Penny also frequently invites professionals from HRM and NYC Alumni to speak in her classes. Students greatly enjoy her lively teaching style, enthusiasm for course material and approachable manner.
Dr. Vassilis Skianis - Vassilis holds a Bachelor degree in Banking and Financial Management from the University of Piraeus, a Master degree in Economics from New York University, and a PhD in Environmental Economics from the London School of Economics and Political Science. He is also a research associate and participates in the organization of international academic conferences with Athens Institute for Education & Research (ATINER). Vassilis has been involved in various research (EU FP7 and H2020) and consulting projects.

Kyvele Constantina Diareme, PhDc – Kyvele is finishing a PhD in WebGIS (Web Geographic Information Systems) in the Informatics Laboratory, Department of Agricultural Economics and Rural Development, at the Agricultural University of Athens (AUA). Her research interests include WebGIS, Personalized/Team Touring, Tour optimization. She holds two Master of Science degrees - in Geoinformatics and her thesis subject was "Personalized routing in outdoor spaces (touring): route planning techniques and algorithms" and in Agricultural Economics and Rural Development/Degree in Agronomy – thesis subject "Development of an Information System for agricultural supply warehouse management". She has also participated in the Greek Open Courses e-learning program dedicated to the adaptation of courses taught at Greek Higher Education Institutes to the digital environment. For the University of Greenwich programme, Kyvele is the tutor for Management of Information Systems which is an area of special interest to her.