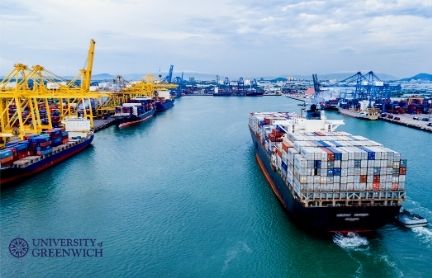 Master in Global Shipping Management
---
The Master of Science (MSc) program of the British State University "UNIVERSITY OF GREENWICH", with a major in Global Shipping Management, and full-time study at New York College in Greece, offers students a broader knowledge and practical understanding of the shipping sector, as well as the necessary skills so that the graduate successfully pursues his professional career in management areas of Global Shipping.
The programme aims to:
Provide students with an enhanced base of knowledge and current and reflective practice necessary to initiate a career in Global Shipping Management at the Professional Managerial level.
Enhance specialist knowledge in the area of Global Shipping Management which builds upon studies and the undergraduate level.
Further develop improved skills of independent learning and critical appraisal;
Develop an extensive insight into commercial global shipping applications and requirements;
Develop critical insight of management issues related to the global shipping environment;
Develop a comprehensive knowledge of leading- edge ICT tools and techniques in a specific discipline;
Provide the ability to progress to the next level of study as appropriate.
---
Λεπτομέρειες
Magazine

Curriculum

Careers

Professors
Curriculum
In order to complete the Postgraduate Degree in Marine Engineering Management by the University of Greenwich, students must complete eight core modules and an individual project (under the guidance of a designated supervisor). The students are formally registered as students of the University of Greenwich.
COURSES
Research Methodology – 15 credits
Advanced Principles of Supply Chain Management – 15 credits
Technical Elements of Ships, Maritime Policies, Conventions & Regulations and Maritime Security - 15 credits
Maritime Economics and Global Business Management – 15 credits
Strategy and Management – 15 credits
Commercial Management of Ships – 15 credits
Marine Engineering Law and Maritime Insurance – 15 credits
Accounting, Finance and Business Planning for the Shipping Industry – 15 credits
Individual Project – 60 credits
Duration
One year (full-time).
Two years (part-time).
Careers
The programme takes a strategic perspective of the maritime industry and places emphasis on the skills required for achieving the highest positions within this exciting industry. On completion of this programme, graduates will have detailed knowledge of the field of shipping management; have the academic knowledge and skills base to operate as an effective professional in the area of shipping management.
Professors