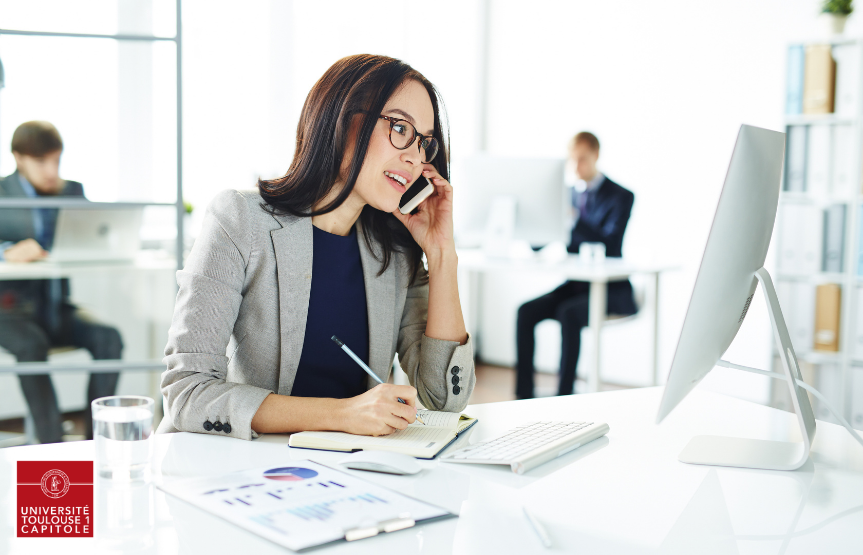 Bachelor in Economic & Social Administration
---
The programme Licence Mention Administration Economique et Sociale of the University of Toulouse 1 Capitole is a three-year programme which aims to help students develop the analytical capabilities, technical skills and interpersonal skills they will need in the world of business, research and public administration, and to provide a firm grasp of the theory of management.
The programme stands apart from similar programmes offered elsewhere by its updated curriculum and its strongly quantitative orientation; students will develop a thorough background on statistics, mathematics, IT, decision-making analysis, finance, law and economics, along with understanding the concepts and issues related with various other tasks that management involves such as leadership, planning, staffing and organising. Thus, students will be given the opportunity to acquire systematic knowledge on the principles of management, which deal with all actions of coordinating people and allocating resources in an optimal way in order to accomplish the desired goals for the organisation.
---
Λεπτομέρειες
Newsletter

Curriculum

Careers

Professors
Newsletter
Curriculum
1st Year
Economic Science I

General Accounting

European Institutions

Legal Frameworks I

Management I

Mathematics I

Management Information Systems I

Business English I

Legal Framework II

Economic Science II

Management Information Systems II

Business English II

Mathematics II

International Institutions

Sociology

Simulation Level I
2nd Year
Management Information Systems III

Management II

Legal Frameworks III

Business English III

International and European Law

Financial Management

Industrial Strategy and Economics

Project Management

Management III

Management Information Systems IV

Legal Frameworks IV

Statistics I

International Law

Probabilities and Operations Research

Business English IV

Simulation Level II
3rd Year
Macroeconomics

Strategy of 

Ο

rganisations

People Management-Human Resources

Commercial Law

Social Law

Managerial Control

Marketing

Business English V

Mathematics III

Statistics II

Company Law

Business Accounting

Investments Policy

Microeconomics

Tax Law

Business English VI

Simulation Level III

Practice & Project
Careers
For those who plan to go directly into the workforce, this degree provides highly-valued knowledge and skills necessary to be successful in a variety of entry-level positions in business, including banks, small business enterprises, multinational corporations, and non-profit organizations. Students will have the requisite skills to become entrepreneurs and small business owners. Furthermore, with the Bachelor's degree in Business Administration by UT1 you are accepted by most MBA and MA or/and MSc programs offered at New York College as well as by other Universities abroad. The entry qualifications for graduate studies differ from university to university. However, the UT1 degree is internationally recognized.
Professors
Academic Coordinator Mrs. Isabelle Solé: Mrs. Solé has received her PhD from the Université Toulouse 1 Capitole, France. In 2000 she joined the Faculty of Université Toulouse 1 Capitole. Since 2004, Isabelle has been the Academic Director of the Bachelor's in Management program offered at Institut d' Administration des Entreprises (IAE) of the Université Toulouse 1 Capitole. Her research focuses on Management of Information Systems.
Local Tutors
Dr. Iakovos Arapoglou: Mr. Arapoglou's studies are of a very high standard. He holds a PhD in International Economics; an MA in International Relations; an MPhil in Economics; and a BA in Sociology from the City University of New York, USA. Following a successful academic career in the USA in institutions as Lehman College, Hunter College and Grand Valley State University, Iakovos joined the Faculty of New York College in 1995, and has become a valuable faculty member ever since.
Mrs. Vasiliki Tsina: Mrs. Tsina holds a bachelor's degree in Law from the University of Athens, Greece. She has a license to practice Law in a Court of Appeal and she has also completed a Certificate in European Law at the European Commission. Further to her Law career, Vasiliki has an extensive experience as a lecturer in the area of Law, European Law and Ethics and is one of the senior members of our Faculty, teaching at NYC since 1997.
Dr. Vassilios Skianis: Dr. Skianis holds a Bachelor of Arts Degree in Banking and Finance from the University of Piraeus, a Postgraduate Diploma in Economics from the University of New York and a Doctorate in Environmental Economics and Political Science from the London School of Economics and Political Science. He is also a research fellow and participates in the organization of international academic conferences with the Athens Institute of Education and Research (ATINER). Dr. Skianis has been involved in various research projects (EU FP7 and H2020) and consulting programs.
Dr. Konstantina-Kyveli Diareme (Doctoral Candidate): Dr. Diareme is completing her PhD in WebGIS (Web Geographic Information Systems) at the Laboratory of Informatics, Department of Rural Economics and Rural Development, Agricultural University of Athens (AUA). Her research interests include WebGIS, Personalized / Group Tours and tour optimization. He holds two master's degrees, the first in Geoinformatics with the aim of the thesis being "Personalized outdoor travel (tours): route planning techniques and algorithms" and the second in Rural Economics and Rural Development in Agronomy - Agricultural Warehouse Management System. She has also participated in the e-Learning program of the Greek Open Courses, dedicated to adapting the courses taught at the Greek Higher Education Institutes in a digital environment.
Makis Patsonis: Mr. Patsonis started his career by teaching business at the University of Detroit, Michigan USA. He subsequently worked for major oil companies like Mobil and BP based in the UK with assignments all over Europe. He dealt with SAP application in multinational environments. His field of expertise is audit, internal controls, risk analysis and process reengineering and optimization. In Greece he worked at ELPE as director of audit and accounting.  He joined NYC in 2016. He teaches Maritime business, Management Controls, Business Strategy and Small Business management. He brings in the experience of the real economy as supplement to academic education. He holds a BSc degree from the Athens University of Economics and Business and an MBA degree from the University of Detroit.
Constantina Sardini: Mrs. Sardini became Human Resources Manager in New York College, Educational Group in 2018. She is also a Ph.D. Candidate in Organizational Psychology with specialization in Leadership, while she has developed a long experience in the areas of Communication, Corporate Training and Development.  
She completed all of her studies in USA obtaining a Bachelor' s Degree in Communication and master's degree in Business Communication. She received a full Graduate Scholarship at the age of 23, as a Teaching Assistant in Communication and Public Speaking. She also worked for an Advertising Agency as Account/Client Service Manager in San Francisco, California.
Nena Gorou: Ms. Gorou has been a member of New York College since 2012 and teaches mathematics courses. She was an Advanced Mathematics teacher for eleven years at the Air Force Icarus School and the Air Force Technical School. Since 2012, he has been working at the college as an Academic Advisor. Since 2017, he is the head of the Academic Advisors. He has published research papers on mathematics and participated in international conferences. He is a member of the Hellenic Mathematical Society and the Union of Greek Mathematicians. He has received the College Teaching Excellence Award 3 times. He has taught Algebra, Discrete Mathematics, Calculus, Trigonometry, Finite Mathematics, History of Mathematics and currently teaches Applied Mathematics and Probability Theory.
Mrs Areti Pifea-Mistrioti:
Mrs Pifea-Mistrioti has been working as an EFL Teacher for more than twenty-five years and she has taught students of all ages (young learners, teenagers, and adults). She started her career at language schools in which she worked for about eighteen years preparing the students for the Cambridge and Michigan exams and she continued with working at a private primary school for about ten years. Currently, she is working at New York College, Athens, where she teaches General English, IELTS and Business English to adult students. She has been working at New York College since October 2013 from October to June and during summer seasons she works at summer schools in the UK. Moreover, she is an oral examiner for ESB (Europalso) and MSU (Deree).
Dr Anastasios Liapakis:
Dr. Anastasios Liapakis holds a bachelor in Agricultural Economics and Rural Development from the Agricultural University of Athens, Greece. He received his master's degree in Business Administration (MBA) with a specialization in Digital Marketing and his Ph.D. in Informatics in the field of big data analytics from the Informatics Laboratory of the Agricultural University of Athens. His Ph.D. research was co-financed by the State Scholarships Foundation (ΙΚΥ). His main research interest evolves around Data Structures, Big Data Analytics, Knowledge Engineering, Management Information Systems, Machine Learning techniques, Natural Language Processing and Sentiment Analysis applied in problems concerning Management, Economics, and Marketing. His notable research work, published in national and international peer-reviewed Journals and Conferences, has got a significant number of citations. He has participated in three EU leading research projects in Informatics. He has been teaching Informatics, Programming, and Management Information Systems for the past 4 years.