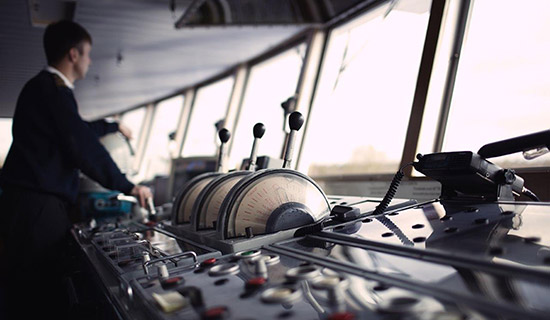 Bachelor in Navigation (Deck Officer)
---
This program aims to educate and train students in order to successfully fulfill their economic, organizational and management activities within the range of one's duties in the role of Deck Officer in complicated and often extreme situations with multinational crews. The program ensures graduates with a wide range of competencies including, but not limited to:
Navigation, Cargo handling and stowage, Controlling the operation of the ship and care for persons on board; All at operational level
Critical thinking and space orientation
Quick and objective appraisal of the situation and taking timely and effective actions
Leadership and teamwork
Understanding of ship crew responsibilities and duties
Understanding of ship construction theory and practice
Knowledge and Skills in Social, Economic and Law Subjects
High Intelligence and Knowledge in Humanitarian Subjects, including inter alia: culture, ethics, skills for self-training, ability in acquiring new developments of the shipping industry.
Training in Fundamental Engineering
Mastery of fundamental sea competencies and skills (sailing, rowing and steering; first medical aids)
Fundamental personal qualities: discipline, honesty, objectivity, organization, independence and initiative, responsibility, sustainability in physical and mental stress, adaptability and professionalism.
---
Course Details
Curriculum

Requirements

Careers
Duration
Duration of studies is four (4) years full-time, the first two being held at the New York College in Athens and the next two years at the Technical University, Varna, Bulgaria.
For the completion of studies and the issuance of a Certificate of Competency as officer in charge of a navigational watch, two semesters of on board training must be carried out. Specifically, students before graduation must carry out six (6) months of on-board training, according to a program recorded in their Training Record Book (ΚΕΠ).
Graduates are entitled to take the examinations at the Bulgarian Maritime Administration in order to obtain an STCW Certificate of Competency (COC), after they have carried out an additional six (6) months of on-board training.
After completion of the 12-month on-board training, the completed Training Record Book is submitted to the Technical University (TU Varna) for assessment and marking.
New York College, in cooperation with the Technical University, Varna, instructs students how to find a ship to carry out their on-board training.
High school or an equivalent title entitling the candidate to enter higher education or the European Baccalaureate issued by a European School of European Communities;
Medical Fitness Certificate;
A Declaration of candidate's ability to swim;
Photocopy of English Language Certificate at B2 level at CAMBRIDGE or MICHIGAN Universities or another recognized organization certified for authenticity by the educational staff of the relevant Embassy or the competent body (British Council, Hellenic American Union);
Successful interview with the Academic Director of the programme in Athens
After completion of their training scheme, graduates are entitled to work as:
Watch keeping Deck Officers on board all types of ships;
Following approved seagoing service and having completed approved education and training, as determined in STCW – Chief mates and Masters on board all types of ships.

NOTICE: Seafarers' Certificates of Competency issued by Member States of the European Union are equivalent to the corresponding Greek

(Law 3450/2006, Government Gazette A64 / 30-3-2006, Article 19, Recognition of Foreign Certificates of Competency and Proof of Maritime Skills)


After additional short-term further education or postgraduate studies (Master and a PhD degree), as senior executives in shipping-related fields such as shipping companies, shipyards, transport, classification societies and insurance.
After additional short term specific qualification – as senior managers in maritime-related sectors such as shipping companies, shipbuilding, shipyards, logistics, transportation, classification societies, and insurance.
Further alternative employment and substantial prospects possibilities, depending on the will and aspiration of each graduate.